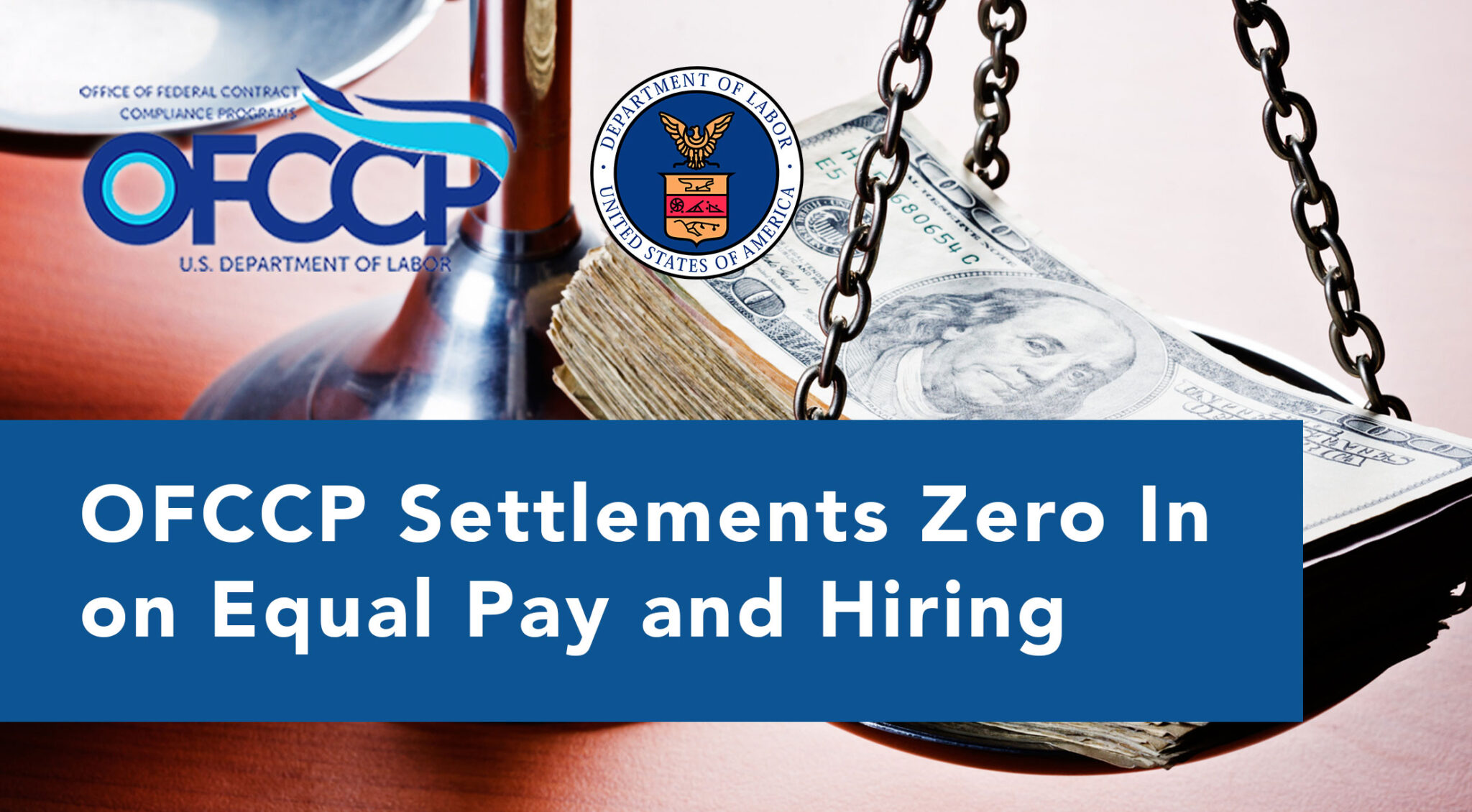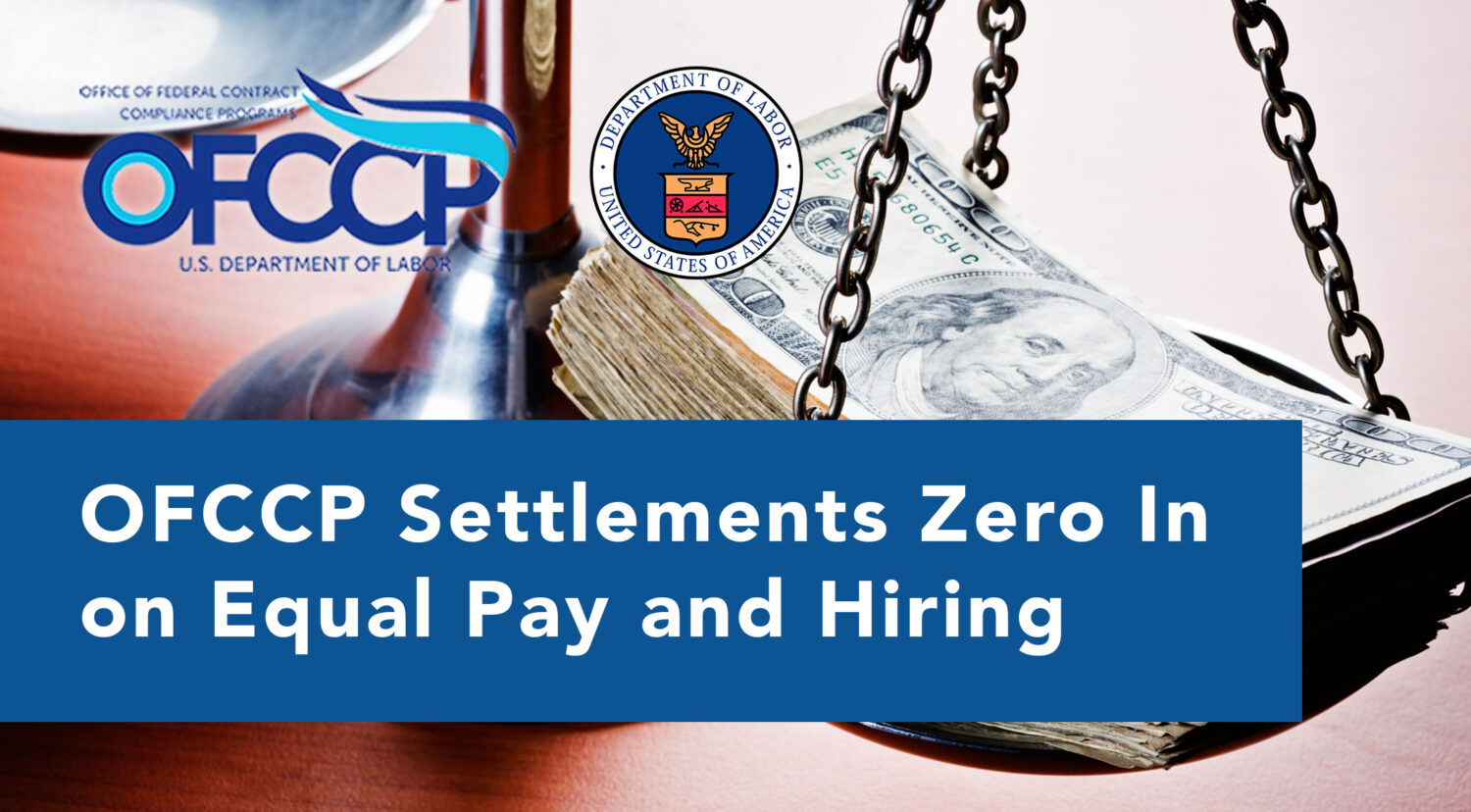 A spate of recent conciliation agreements released by the Office of Federal Contract Compliance Programs (OFCCP) shows that the agency is making good on its promise to enforce equal pay and hiring rules. Equal pay has been a stated focus of the agency even before the Biden administration, which has promised to keep equal pay at the forefront of the Department of Labor's enforcement efforts.  
In addition to complying with Title VII of the Civil Rights of 1964 and Executive Order 11246—which prohibit employers from discriminating in hiring or employment decisions based on race, color, religion, sex, sexual orientation, gender identity, or national origin—federal contractors must also develop affirmative action plans and comply with OFCCP auditing and recordkeeping requirements.  
As a result of their collective recordkeeping and auditing failures, the federal contractors in the most recent set of published conciliation agreements will pay a grand total of $3,512,636 in back pay and interest to remedy their missteps; missteps which could have likely been avoided if the offending federal contractors had implemented adequate internal audit and reporting systems to measure the effectiveness of their affirmative action programs. 
---
September Conciliation Agreements
---
Aecom Management Services, Inc. was ordered to pay $205,000 in back pay and interest to resolve OFCCP claims of statistically significant hiring disparities for the position of Aircraft Worker at its Virginia Beach location, resulting in a hiring shortfall of 8 Black hires. 
Astra Zeneca Pharmaceuticals LP was ordered to pay $560,000 in back pay and interest based on OFCCP allegations that the company paid women less than men in the position of Specialty Care Sales Representative Level 4 and paid Hispanic women less than men for the Position of Primary Care Sales Representative Level 3.   
HM Health Solutions, Inc. agreed to pay $410,000 in interest and back pay to settle allegations that the company paid White, Black, and Bi-Racial employed less than Asian employees.  
IBM US Public Service GBS agreed to pay $350,000 in back pay and interest to settle claims that it paid 115 female project managers less than 141 similarly situated male employees. 
International Packaging Corporation (Interpak) entered into a conciliation agreement with OFCCP to distribute $160,000 in back pay and interest to female employees who were paid less than similarly situated male employees in Machine Operator positions. 
Korrect Optical agreed to pay $227,636 in back pay and interest to settle claims that Black and White hires were disparately underrepresented compared to Hispanic employees for Operatives job group positions over a two-year period. 
Regus Management Group agreed to pay $900,000 to settle claims that its selection process resulted in an adverse impact against male and Black applicants for the positions of Community Associate and Community Manager. 
Serco Inc. agreed to settle with OFCCP for the sum of $150,000 in back pay and interest to absolve itself of claims that it paid female IT employees less than male employees in the same group. 
Thompson Reuters Corporation will pay $550,000 to settle claims of disparate compensation based on race and gender for five different positions.
---
Equal Pay and Hiring Best Practices
---
Equal pay and hiring missteps, as exemplified in the cases above, can result in significant monetary fines, not to mention the burden of ongoing compliance monitoring and potential reputational damages. In light of the OFCCP's heightened focus on equal pay and hiring practices, federal contractors must be proactive in reviewing their policies, procedures, and practices to ensure compliance with OFCCP requirements.
Engage in regular self-monitoring and auditing of hiring and pay practices.

Unassuming policies and procedures can ultimately lead to systematic pay and hiring disparities. But the EEOC and OFCCP do not require discriminatory intent to levy charges and penalties for equal employment violations. That's why employers need to conduct regular internal audits to ensure that employees are not being hired or paid differently based on race, color, creed, religion, national origin, gender, disability, or any other classes protected by Executive Order 11246 and related regulations.

More specifically, federal contractors should regularly evaluate their hiring practices to determine if a particular group of applicants or employees is being disproportionately screened out at a certain stage of the hiring process. Companies should also conduct regular compensation analyses by gender, age, race, and other demographic categories, controlling for job-related factors (experience, seniority, etc.) to uncover pay disparities.

Record Keeping

Having adequate records not only keeps you in compliance with OFCCP requirements but can help you defend your case in the event of an EEO or OFCCP claim. Under OFCCP rules, federal contractors are required to collect and maintain employment and personnel records, including: 

Application forms

Applicant flow logs and data

Job postings and advertisements

Screening tests (if applicable) and results

 

Records concerning hiring, promotion, performance appraisals, demotion, transfer, layoff, or termination

 

Rates of pay and terms of compensation

Employers are also required to conduct job group analyses. These analyses must include a list of job groups with job titles that are similar in content, wage rates, or opportunities and align with respective job group descriptions.

Get the Help of an Expert

While OFCCP offers many resources to assist federal contractors with their equal employment obligations, reporting and recordkeeping obligations are complicated and continually changing. This can leave federal contractors feeling wary and confused about whether they are meeting their compliance obligations.  

Enlisting the help of an experienced compliance professional, such as an HR consultant who specializes in federal contracting compliance, can help you identify and address compliance weaknesses to stay on the right side of your next OFCCP compliance audit.  

 
---
To learn more, don't miss our complimentary webinars RECORDKEEPING R01 – Maintaining Applicant Flow Data and COMPENSATION P01 – Analyzing for Compensation Data. If you need help with your AAP compliance efforts, HR Unlimited Inc. can help! Our comprehensive affirmative action services assist you in all phases of affirmative action compliance. Contact us today to learn more about the many benefits of our Affirmative Action Partnership!