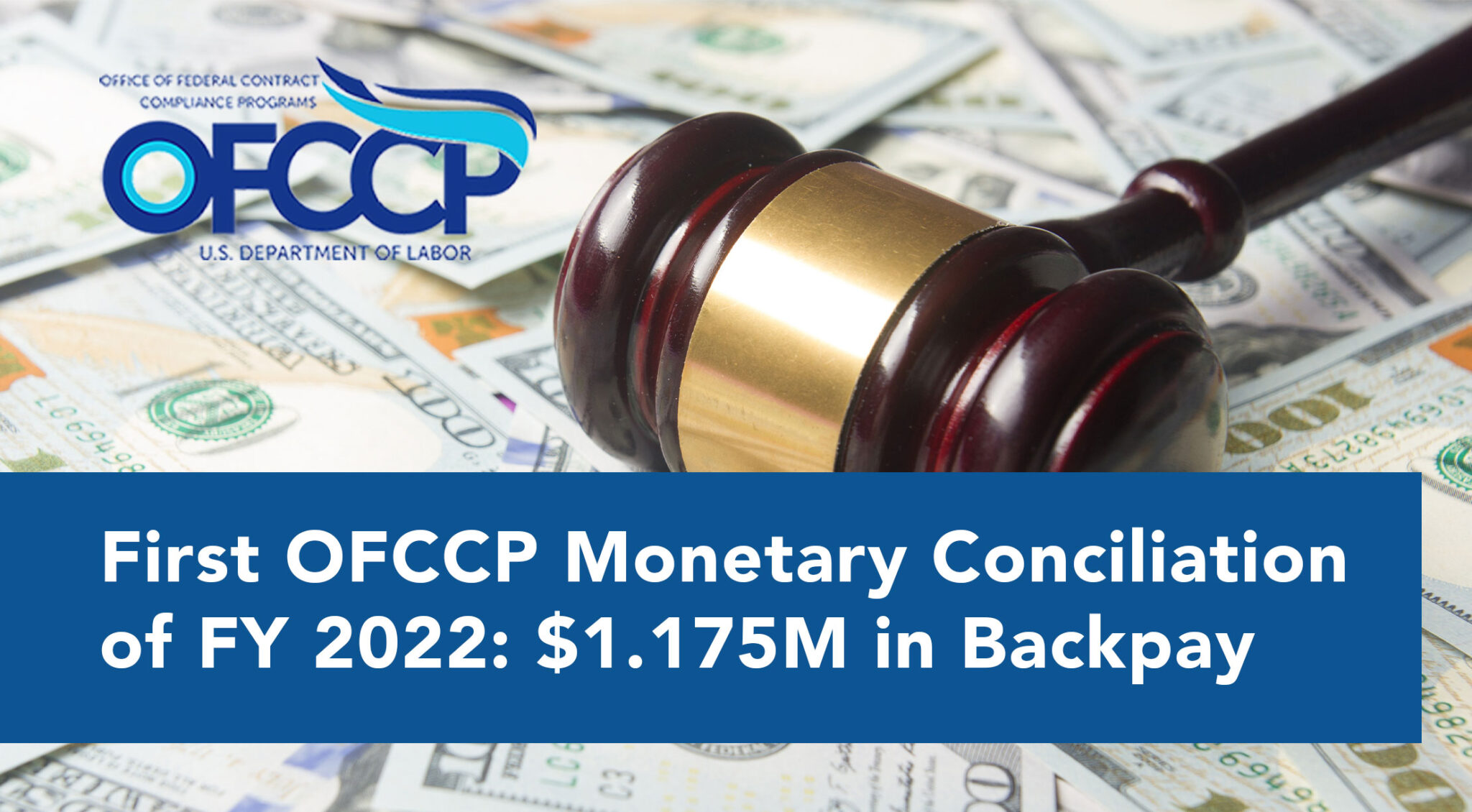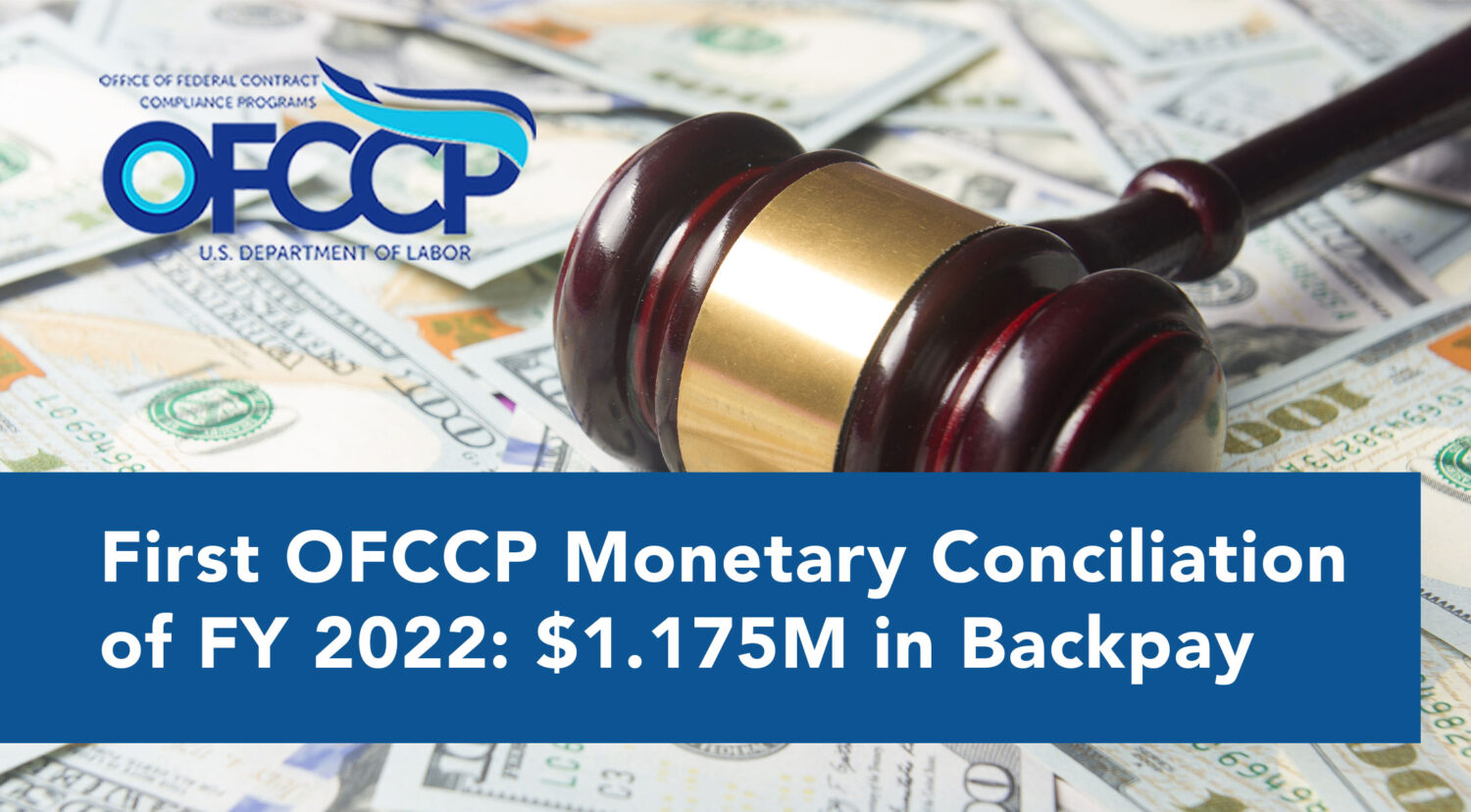 Are you overlooking the hidden costs of compliance missteps in your government contracts?  
As the Office of Federal Contract Compliance Program's (OFCCP) first monetary conciliation agreement of Fiscal Year 2022 illustrates, federal contractors can pay a hefty price for failing to meet their equal hiring and compensation obligations.  
Here's what you need to know.
---
What Happened With AlliedBarton?
---
Executive Order 11246 prohibits federal contractors and subcontractors from discriminating in their hiring and promotion practices on the basis of race, ethnicity, sex, and other protected characteristics. It also imposes specific reporting, auditing, and affirmative action requirements, including annual affirmative action reports. 
In this case, AlliedBarton agreed to pay a staggering $1,175,000 in back pay and interest to settle OFCCP allegations that it discriminated against female, Black, and American Indian unarmed security officers from November 3, 2012, through November 3, 2014, at its 229 West 36th Street New York, New York location. The company paid persons in these protected classes less than their male and White counterparts by assigning them to lower-paying job-sites. 
In addition, OFCCP found AlliedBarton to have logged several technical violations, including: 
Failing to perform an in-depth analysis of its employment process and compensation system to uncover gender, race, and ethnicity-based disparities
Failing to execute corrective actions to remedy employment disparities for protected persons
Failing to implement an auditing system to measure the effectiveness of the company's affirmative action program
Failing to track job-site assignments for compensation disparities

 
As part of the agreement, AlliedBarton will also be required to take several remedial measures including: 
Avoiding "tap on the shoulder" job-site assignments where a supervisor promotes their favorite employee without announcing new job openings or training opportunities to all eligible employees. AlliedBarton will be required to maintain a uniform method of informing all current unarmed security officers at its Midtown Manhattan office of openings at job-sites and must provide them an opportunity to apply for or transfer to the opening.

 

Monitoring compensation and job-site placements for unarmed security officers at the impacted location for any indication of significant disparities based on race/ethnicity or gender over a three-year period.

 
---
Key Takeaways
---
OFCCP's agreement with AlliedBarton highlights several key lessons for employers to carry with them into the new year.
1. Unintentional acts can lead to pay disparities
Unassuming policies and procedures can ultimately lead to systematic pay and hiring disparities. But the EEOC and OFCCP do not require discriminatory intent to levy charges and penalties for equal employment violations. Things like promotion decisions, performance ratings, access to training opportunities and preferred work assignments, and leave policies, can all lead to inadvertent systematic pay disparities. 
In AlliedBarton's case, assigning employees from a protected class to less lucrative job sites had the same impact as paying them less than coworkers at the same location.
Employers should also look beyond mere salary and wages in analyzing compensation practices. Additional incentives, such as vacation, expense accounts, access to overtime hours, and leave policies are scrutinized by the OFCCP in evaluating overall pay equity.
2. Federal contractors must self-monitor and audit hiring and pay practices
Federal contractors are required by OFCCP to conduct regular analyses of compensation systems to identify potential disparities. Audits must specifically analyze pay by job title, pay grade, or department to assess whether race or gender‐based compensation disparities exist. If after controlling for factors that could explain pay differences, significant pay disparities are found, employers may need to take steps to adjust pay or the underlying factors that are contributing to pay disparities. 
In this case, AlliedBarton did not conduct regular audits to uncover problematic pay and hiring practices and was also found to be deficient in both its affirmative action hiring efforts. Simply complying with OFCCP requirements would have likely spared the company a costly investigation and settlement.  
Establishing an effective self-monitoring system and conducting regular pay equity audits can help ensure that compensation systems do not result in pay disparities based on gender, race, or ethnicity.
3. OFCCP scrutiny is far-reaching
The AlliedBarton conciliation agreement stemmed from equal pay disparities that occurred nearly a decade ago (2012-2014).  But this obviously didn't deter OFCCP from making its point.  
The agency has made clear that pay equity is a strong enforcement priority.  It also recently announced new requirements for ALL federal contractors to certify their affirmative action program (AAP) reporting through its recently launched online portal.  
Now is the time to ensure that your company has the policies, procedures, programs, and reporting in place to avoid penalties and reputational damage that can ensue from an OFCCP investigation.
---
HR Unlimited has been helping federal contractors with their HR and OFCCP compliance needs since 2001. Contact us today to learn more about how we can help your business.