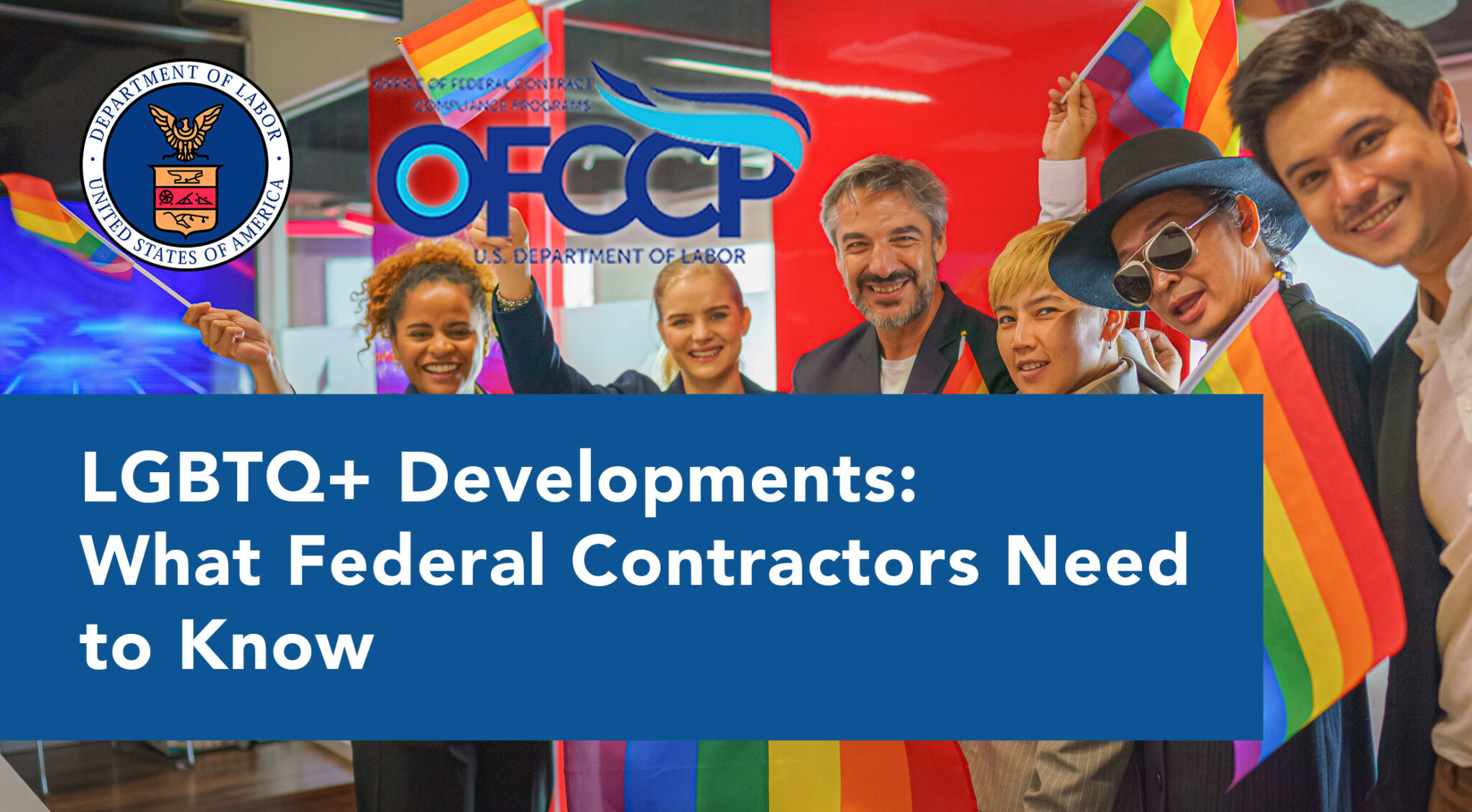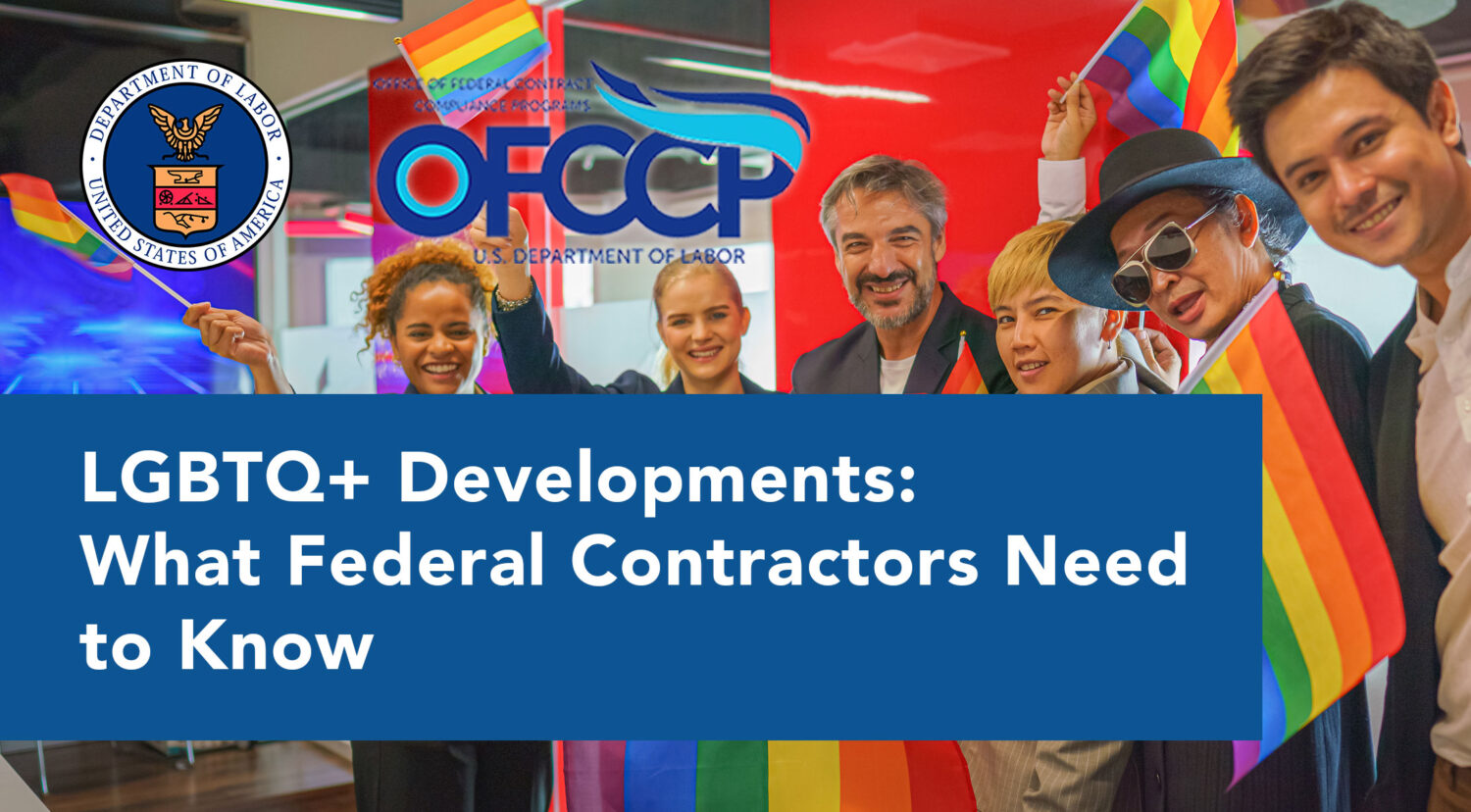 This month commemorates Pride Month. With a new administration firmly in place, the Office of Federal Contract Compliance Programs (OFCCP) and other federal agencies have turned a new focus on LGBTQ+ workplace rights and equality. Here's a rundown of recent developments.
---
OFCCP commemorates Bostock decision
---
OFCCP recently issued a statement commemorating the first anniversary of the landmark Supreme Court decision, Bostock v. Clayton County, Georgia, which affirmed that LGBTQ+ persons are entitled to anti-discrimination protections under the Civil Rights Act of 1964 and Title VII. OFCCP notes that there is much work to be done to ensure equal treatment for LGBTQ+ employees. According to OFCCP, over 1 in 5 LGBTQ+ workers report experiencing employment discrimination and transgender workers have lower employment rates and incomes than non-transgender individuals.
---
Executive Order directs federal agencies to examine LGBTQ+ equity issues
---
Since 2014, Executive Order 11246 has prohibited employment discrimination by federal contractors based on sexual orientation and gender identity. More recently, President Biden issued Executive Order 13988, Preventing and Combating Discrimination on the Basis of Gender Identity or Sexual Orientation. The E.O. establishes it as the official policy of the Biden-Harris Administration "to prevent and combat discrimination against LGBTQ+ individuals, and to fully enforce civil rights laws to prevent discrimination on the basis of gender identity or sexual orientation."   
More specifically, E.O. 13988 directs the heads of federal agencies to review all agency actions, orders, regulations, policies, programs, and guidance for their adherence to the administration's stated policy of preventing discrimination based on gender identity or sexual orientation. The E.O. further directs all agencies to "as soon as practicable," consider whether agency policies, procedures, etc. should be revised, suspended, or rescinded to align with the administration's new LGBTQ+ policy. In addition, each agency is tasked with developing a plan within 100 days of the order to carry out the administration's new policy. This deadline has since expired but OFCCP's plan has not been publicly released.
OFCCP said it will join an interagency committee focused on advancing E.O. 13988 and Title IX protections across all federal agencies. The department also says it is working to reverse policies of the previous administration that cut requirements for diversity training and is undertaking an equity review of how OFCCP policies and programs are addressing the needs of "historically underserved populations." The agency has yet to comment on any concrete next steps, but a new emphasis on the protection of LGBTQ+ employees is all but certain.
---
Supreme Court declines to set new precedent on whether federal contractors can discriminate for religious reasons
---
The Supreme Court recently announced its ruling in Fulton v. City of Philadelphia, in which the City of Philadelphia refused to contract with Catholic Social Services (CSS) because of its refusal to certify same-sex couples as potential foster parents on religious grounds. All nine justices ruled in favor of CSS but narrowly focused their decision to the specific facts of the case. More specifically, they said the city did not apply a neutral, generally applicable law in refusing to exempt CSS from the city's anti-discrimination rules. However, the court did not go so far as to overturn existing case law that permits states to apply neutral and generally applicable laws (like anti-discrimination laws) that have the practical effect of restricting religious freedoms. As a result, the decision leaves open the question of how conflicts between religious freedoms and LGBTQ+ anti-discrimination rights should be addressed in federal contracting decisions.
---
EEOC announcement of new LGBTQ+ resources spurs debate among commissioners
---
In a June 15th press release, the EEOC announced new materials and guidance on the EEOC website concerning gender identity and sexual orientation discrimination. However, Republic commissioners took issue with part of the guidance that says "employers may not deny an employee equal access to a bathroom, locker room, or shower that corresponds to the employee's gender identity." They assert that the guidance was issued unilaterally by the Commission's Democrat chair and that it expressly contradicts the Supreme Court's decision in Bostock, which declined to rule on "the bathroom issue." 
The spat highlights the power struggle brewing between parties at the Commission. More broadly, the dispute brings into focus the parameters of the Commission's authority to affect policy through their administrative powers to address "operational issues" and provide "technical assistance." In the meantime, federal contractors are well-advised to seek the counsel of a trusted consultant or attorney before implementing the Commission's new guidance.
---
Need help with your AAP compliance efforts? HR Unlimited Inc. can help! We have prepared thousands of AAPs and have been helping federal contractors with a full scope of AAP and EEO compliance services since 2001. Contact us today to learn more about the many benefits of our Affirmative Action Partnership!