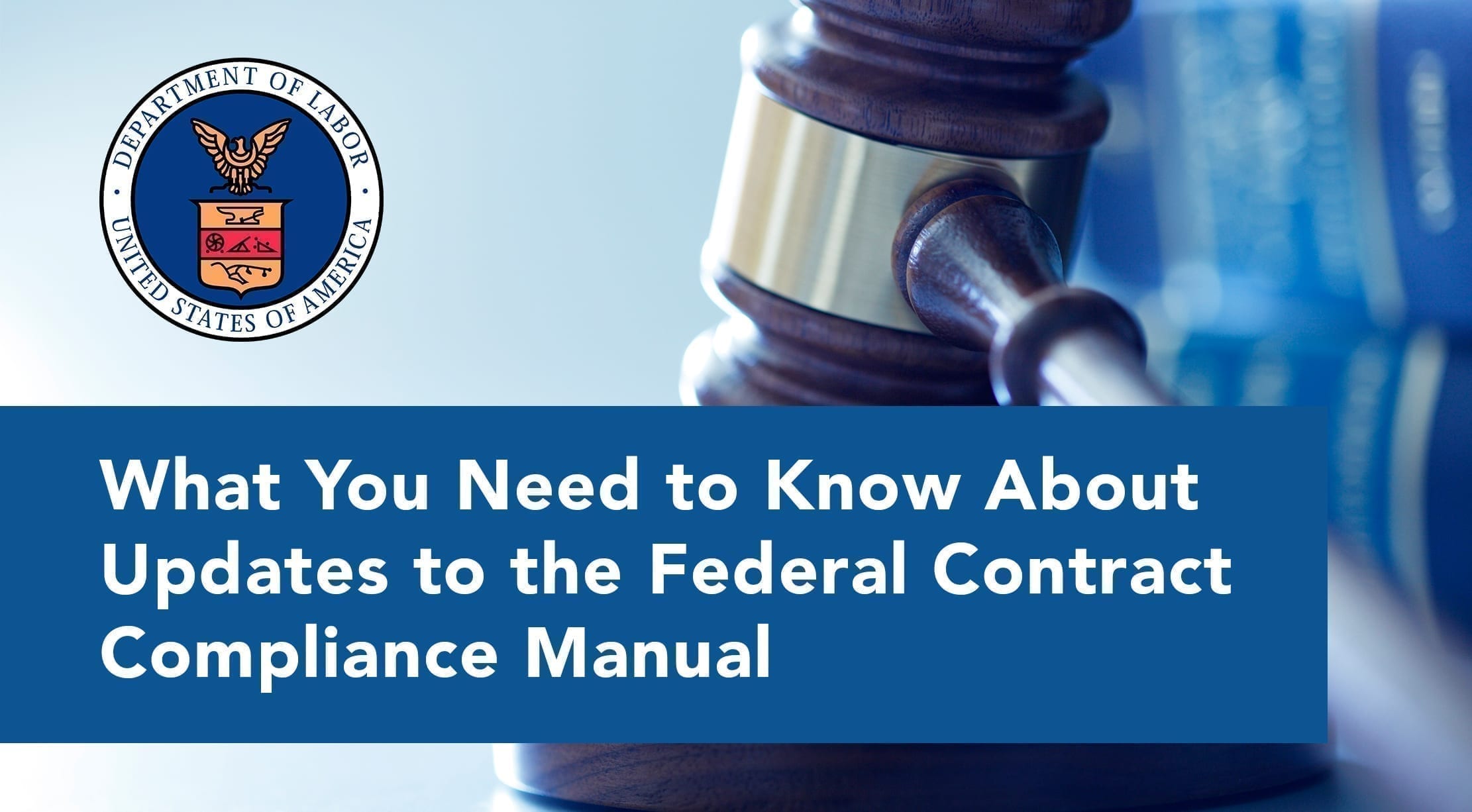 At the dawning of the new year, the U.S. Department of Labor updated its Federal Contract Compliance Manual for the first time since 2014. This update is part of efforts in recent years to increase transparency and improve clarity regarding the federal contract compliance process.
The manual is designed to guide officers with the Office of Federal Contract Compliance Programs in their compliance efforts, including compliance evaluations, investigations and assistance. The updates now reflect recent changes to the OFCCP's regulations and practices.
"It has been updated throughout to reflect revisions to OFCCP's regulations, changes in practices, and to ensure transparency and provide greater clarity for the user on a number of issues," the agency said in a press release.
The manual serves as a guide for contractors looking to better understand the government's enforcement procedures. It can answer questions related to compliance policies and help contractors better anticipate what they can expect during compliance evaluations.
---
Here's what you need to know about the updated manual:
---
The manual includes new protected classes including sexual orientation and gender identity and clarifies protections for those discussing, disclosing or inquiring about compensation. It also includes updated language describing Section 503 and VEVRAA nondiscrimination and affirmative action requirements.
The section regarding desk audits has been revised to align with recent directives related to focused reviews, compensation, early resolution procedures and transparency. This section also includes new language describing academic institution evaluations.
The manual also now includes information regarding new tools compliance officers can use to determine if contractors reported to the General Services Administration that they had developed affirmative action programs.
The new manual now clarifies that "if a compliance evaluation closes at desk audit, the CO does not need to complete portions of the SCER relevant to information obtained during onsite investigations."
In terms of onsite evaluations, the manual has been updated to include pay transparency discussion and onsite procedures, including the interview procedures for when contractors want to have a lawyer or management present.
There have also been a number of changes to the chapter related to how compliance officers handle complaints. This includes updated language that reflects current agency procedures on the referral and retention of complaints as well as language extending the time officers have to perfect complaints to 15 days. The chapter also now includes a section about providing contractors with a 10-day notice to comply with Title VII and Section 503.
The complaint chapter also includes updated language clarifying legal procedures on when to issue a notice-of-right to sue. Another update clarifies the procedure for issuing a notice anytime OFCCP administratively closes a dual filed complaint that is not being referred. Changes to this section also clarify that the agency can seek punitive and compensatory damages when acting as Equal Employment Opportunity Commission's agent instead of only punitive damages.
The OFCCP also made changes to a chapter on resolution procedures for noncompliance. There is added language indicating that a contractor has 5 days from the due date of a progress report to submit it unless a reasonable extension is requested. There is also added language clarifying that Show Cause Notices are issued whenever the contractor refuses to provide access to records and modifying the authority of officers to rescind Show Cause Notices without express approval from the national office.
There are also a number of changes to the manual's appendices. This includes an updated scheduling letter and itemized listing with a new expiration date. These appendices are vital to those contractors who want to conduct self audits or better prepare themselves for evaluations.
While the changes to the manual are substantive, they merely reinforce recent changes the administration has made to the compliance possible. Making this new information available online ensures contractors have access to the information they need.