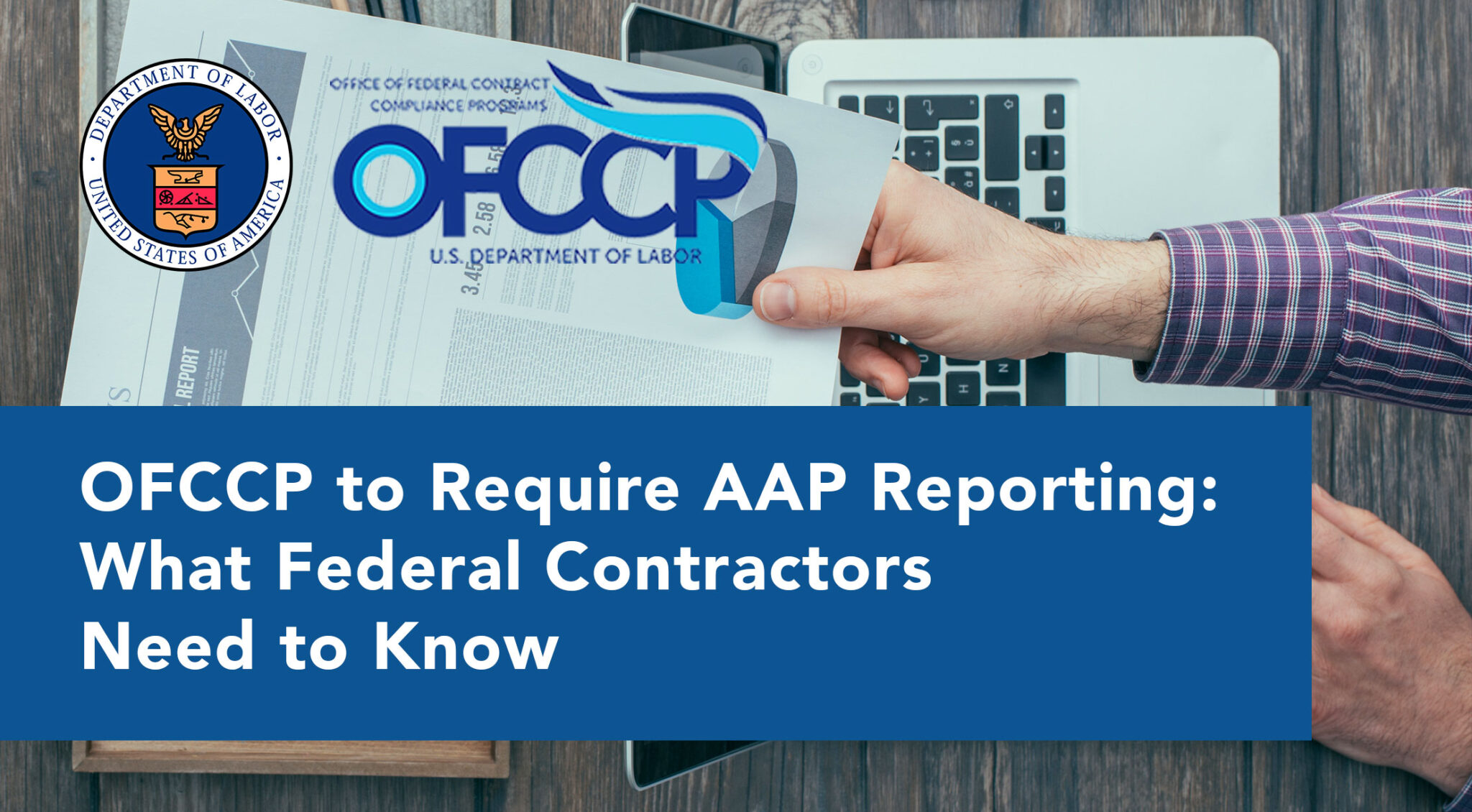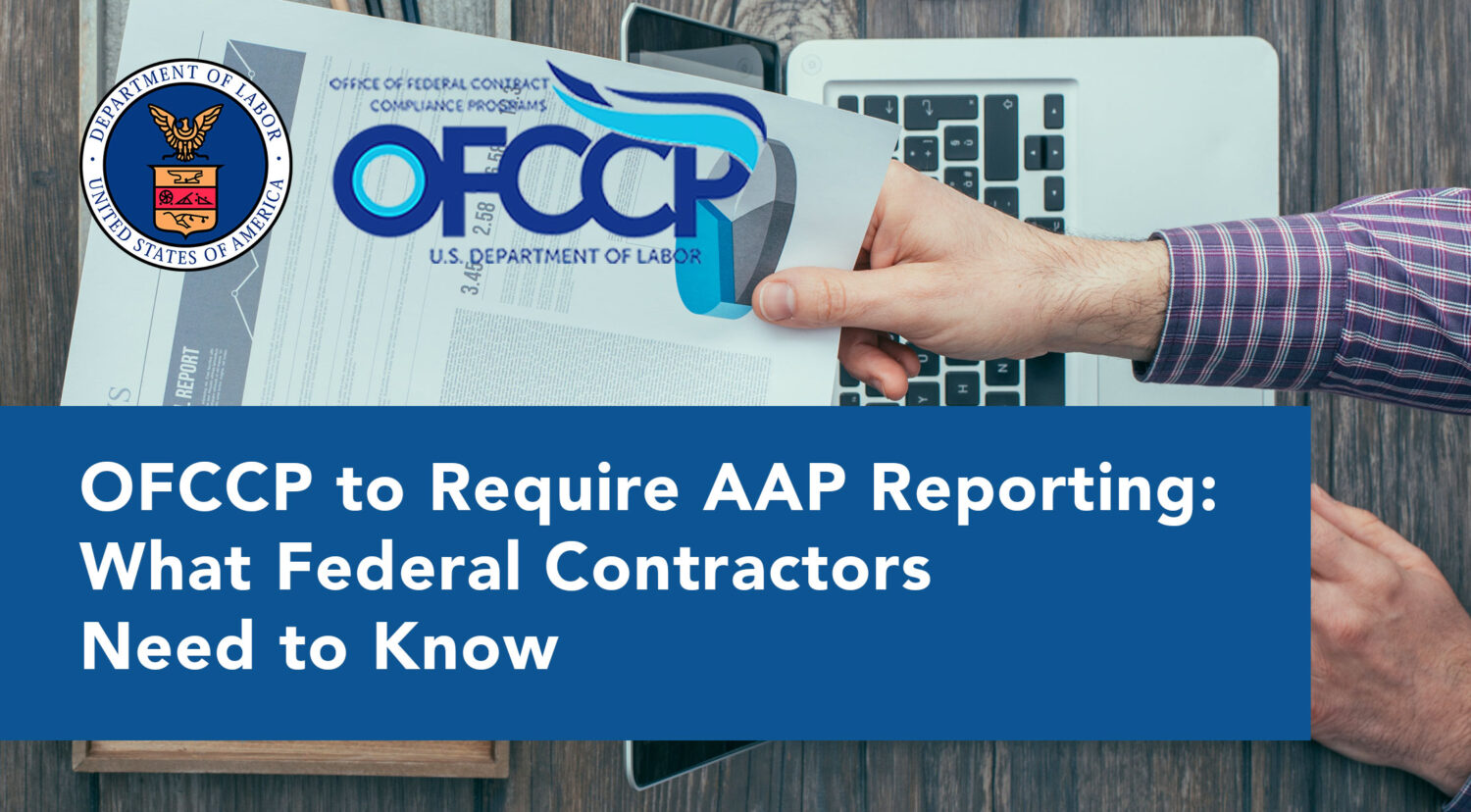 The Department of Labor (DOL) recently indicated that it will soon launch a secure web-based interface designed to facilitate the communication of Affirmative Action Plan (AAP) data between Federal Contractors and the Office of Federal Contract Compliance Programs (OFCCP). 
As a result, Federal contractors can soon expect to be required to regularly report on their AAPs outside of an active compliance evaluation. Those who can't certify to having a compliant AAP may find themselves subject to a compliance review/audit. 
---
What the AAP Reporting Process Will Look Like
---
OFCCP's new AAP reporting requirements come as no surprise. A 2016 U.S. Government Accountability Office (GAO) study criticized OFCCP's compliance efforts and recommended that the agency monitor and require regular certifications of AAPs. In response, OFCCP issued a directive that outlined steps the agency would take to improve AAP reporting. These specifically included developing a process, and the attendant technology, for contractors to yearly certify AAP compliance.
More recently, OFCCP sought approval from the Office of Management and Budget (OMB) to begin the online AAP certification process. Simultaneous to its request to OMB, OFCCP also requested public comment on when and how frequently federal contractors should be required to certify. Highlights gleaned from these requests give insight into what federal contractors can expect from the new process.
Electronic Certification
Upon receiving a Scheduling Letter, a contractor currently submits AAP documentation physically or via e-mail. Under OFCCP's new Affirmative Action Program Verification Interface (AAP-VI), federal contractors will be required to both upload and certify AAPs through the agency's electronic portal. The process will require contractors to create an account in Login.gov, verify the contractor and authorized user, and create an account profile prior to uploading the applicable AAP.
Reporting Triggers and Timeline
After uploading the applicable AAP, each AAP-VI user will be required to select one of the following responses on an annual basis to fulfill its annual certification requirement. 
Entity has developed and maintained affirmative action programs at each establishment, as applicable, or for each functional or business unit.

 

See 41 CFR Chapter 60.
Entity has been party to a qualifying federal contract or subcontract for 120 days or more and has not developed and maintained affirmative action programs at each establishment, as applicable.

 

See 41 CFR Chapter 60.
Entity became a covered federal contractor or subcontractor within the past 120 days and therefore has not yet developed applicable affirmative action programs.

 

See 41 CFR Chapter 60.
Existing contractors will have 90 days to comply with the certification requirement once it takes effect. New contractors or existing contractors who are newly subject to AAP requirements will have 90 days after developing their AAPs to certify. Because those who are newly subject to AAP requirements have 120 days to develop their AAPs, this means they would have a total of 210 days to develop and file their AAPs with OFCCP.
Reporting Frequency
OFCCP's request for comments offers three proposed options for reporting frequency. These include:
Annually and also as they currently do via email or delivery service when required as part of a compliance evaluation.

 

Annually only.
Every two years and also as they currently do via email or delivery service when required as part of a compliance evaluation.
---
How Federal Contractors Can Prepare for AAP Certification
---
Importantly, OFCCP's 2016 Directive says that "failure to develop and update an AAP" will be considered as a criterion in the agency's methodology for neutrally scheduling compliance evaluations. "In situations where contractor establishments fail to comply with the AAP requirement, the likelihood of other violations, including discrimination, may be higher." In short, federal contractors with AAP deficiencies will likely be on the short list for a compliance evaluation.    
Fortunately, federal contractors can take steps now to prepare for OFCCP's launch of its AAP certification process. These include:
Assessing current operations (including differences among operations in various locations) to determine if current contracts or subcontracts require an AAP.
Developing an AAP if one is required but not currently in place.
Ensuring that existing AAPs are compliant and taking necessary steps to remedy compliance gaps.
Ensuring that documentation of AAP efforts is optimized for OFCCP's new technology and verification requirements.
---
Need help with your AAP compliance efforts? HR Unlimited Inc. can help! We have prepared thousands of AAPs and have been helping federal contractors with a full scope of AAP and EEO compliance services since 2001. Contact us today to learn more about the many benefits of our Affirmative Action Partnership!