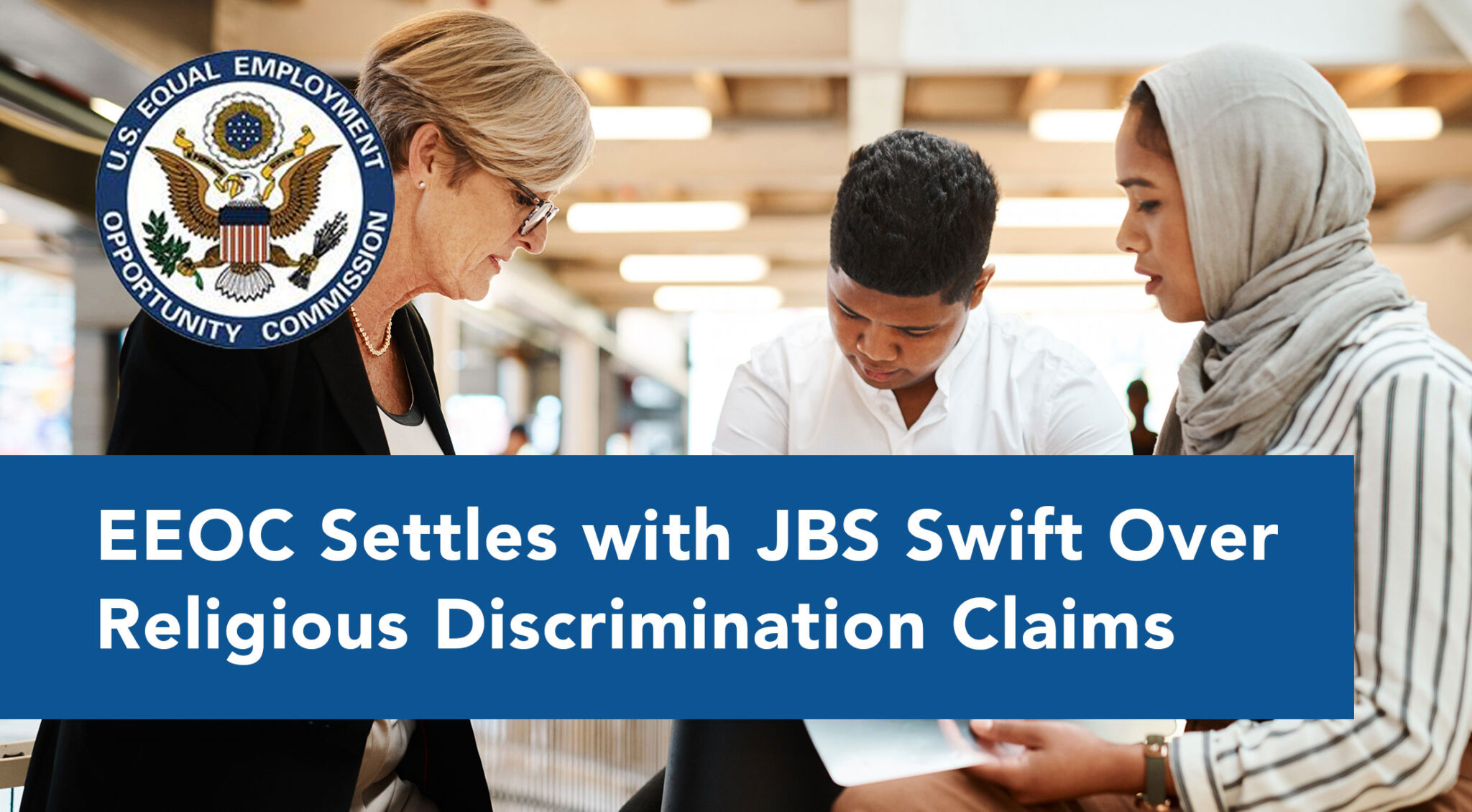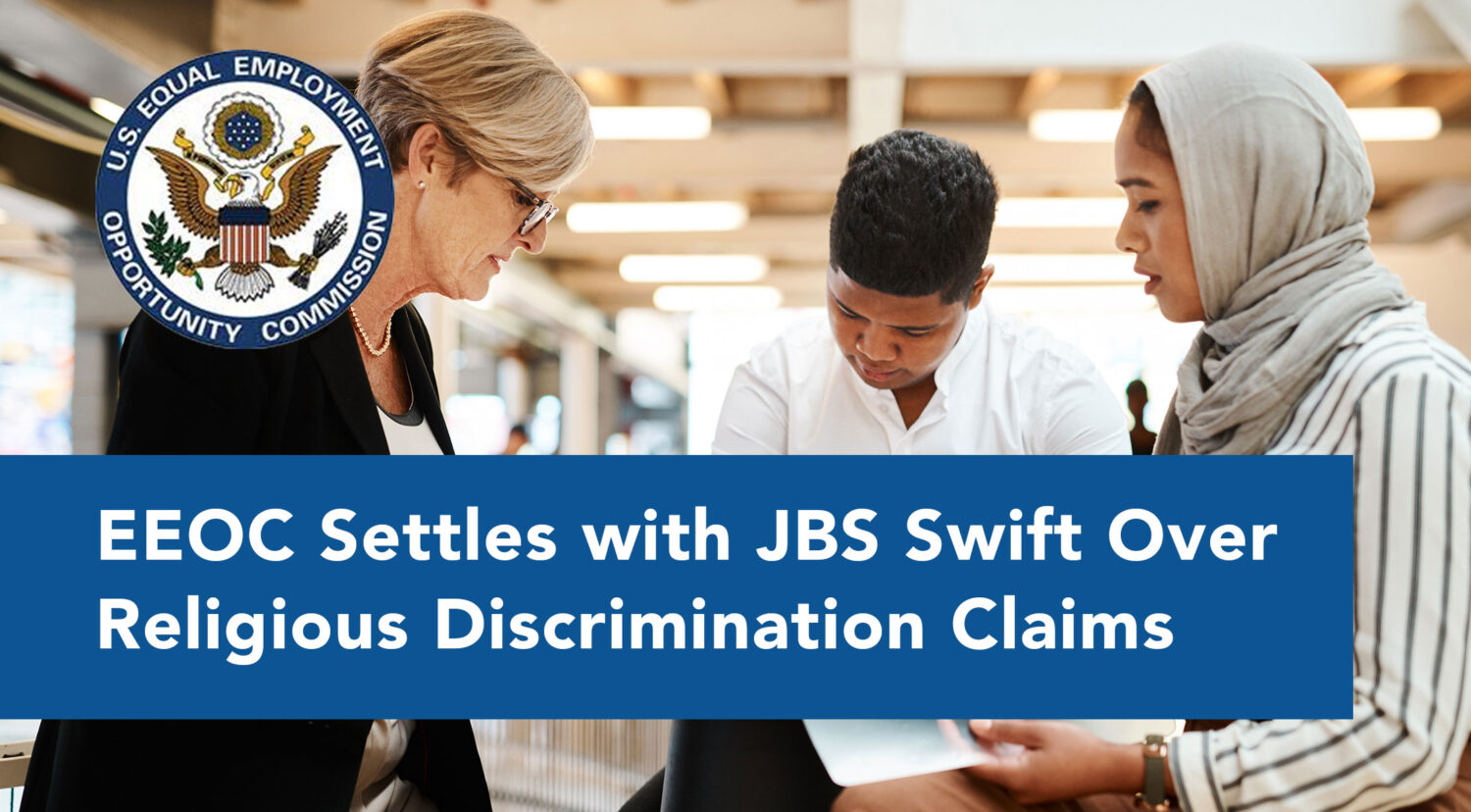 Federal contractors take note of this case
---
International meat processing giant JBS USA LLC, doing business as JBS Swift & Company, recently reached an agreement with the U.S. Equal Employment Opportunity Commission (EEOC) to settle claims that it discriminated against Somalian, Black, and Muslim employees at its Greeley, Colorado plant. 
The EEOC's 2010 lawsuit against the company specifically asserts that JBS:
Did not permit Muslim employees to pray during religious observances
Harassed Muslim employees who tried to pray during breaks
Shut off facility water fountains during the Muslim holy month of Ramadan to make it difficult for Muslim employees to drink water after fasting all day and to wash before prayers
Denied bathroom breaks and unfairly disciplined Somali Muslim employees
Permitted Black, Somali, and Muslim employees to be harassed by managers and other employees; the harassment included name-calling, allowing offensive graffiti to remain in restrooms, and throwing meat and bones at the targeted employees
As a result of the settlement, JBS Swift will pay up to $5,500,000 to compensate employees who were subjected to discriminatory abuses. In addition, JBS will be required to: 
Review, update, and post anti-discrimination policies;

 

Maintain a discrimination reporting hotline;

 

Provide annual EEO training;

 

Implement a diversity committee;

 

Investigate complaints by employees; and

 

Provide appropriate locations for employees to observe religious practices and pray.

 
In a statement about the case, Regional Attorney Mary Jo O'Neill of the EEOC's Phoenix District Office, who had jurisdiction over the matter, emphasized that "Employers must consider and offer reasonable accommodations for their employees' religious beliefs and practices except where it would cause an undue hardship, and employers cannot allow harassment based on race, religion, or national origin."
---
Religious Accommodation and Anti-discrimination Obligations of Federal Contractors
---
The case underscores the obligation of employers under Title VII of the Civil Rights Act to prohibit workplace discrimination on the basis of race, national origin, or religion. These same obligations apply to federal contractors and subcontractors under Executive Order 11246, as enforced by the Office of Federal Contract Compliance Programs (OFCCP).  
Under Title VII and EO 11246, employers cannot discriminate against a protected class in any aspects of employment, including hiring and firing, promotions, training, benefits, job assignments, layoffs, or any other term or condition of employment. They are also responsible for creating a work environment that is free from religious harassment or discrimination. 
Employers must also accommodate employees who have a "sincerely held" religious belief (i.e. it doesn't have to be a traditional organized religion) unless doing so would impose an undue hardship on the business. An undue hardship can include excessive expense, compromises to workplace safety, infringing on other employee's rights, or decreasing workplace efficiency.  A reasonable accommodation could include flexible scheduling, reassignments, transfers, and exceptions to grooming rules to permit an employee to make religious observances.
---
Best Practices to Avoid Religious Discrimination/Accommodation Claims
---
The EEOC offers a comprehensive list of best practices for employers specific to religious discrimination and accommodations here. Notably, the EEOC says that employers should:
Have anti-harassment and reasonable accommodation policies and procedures that are well-publicized and consistently enforced.
Publish and implement an interactive process to help employees communicate their concerns or requests for accommodation.

 

Train managers and supervisors about how to reduce the risk of discrimination in employment practices, how to address harassment and retaliation, and how to recognize and handle religious accommodation requests.

 

Ensure that managers or supervisors Intervene when they become aware of potentially abusive conduct in the workplace, even if the affected employee does not file a complaint.
Well document business decisions and maintain records of discussions and decisions regarding employment decisions and requests for religious accommodation.

 
More comprehensive EEOC guidance on religious accommodations and other employer obligations can be found here. OFCCP also issued a recent opinion letter that is instructive on federal contractors' religious accommodation and anti-discrimination obligations.     
Federal contractors should regularly review their anti-discrimination policies and procedures and ensure that records of AAPs are being adequately created and retained in the event of an OFCCP or EEOC investigation. HR Unlimited, Inc specializes in helping federal contractors and employers effectively meet their AAP and EEO compliance obligations. Please contact us to discuss any of your questions, concerns, or needs in this area.
---
If you need help with your AAP compliance efforts, HR Unlimited Inc. can help! Our comprehensive affirmative action services assist you in all phases of affirmative action compliance. Contact us today to learn more about the many benefits of our Affirmative Action Partnership!