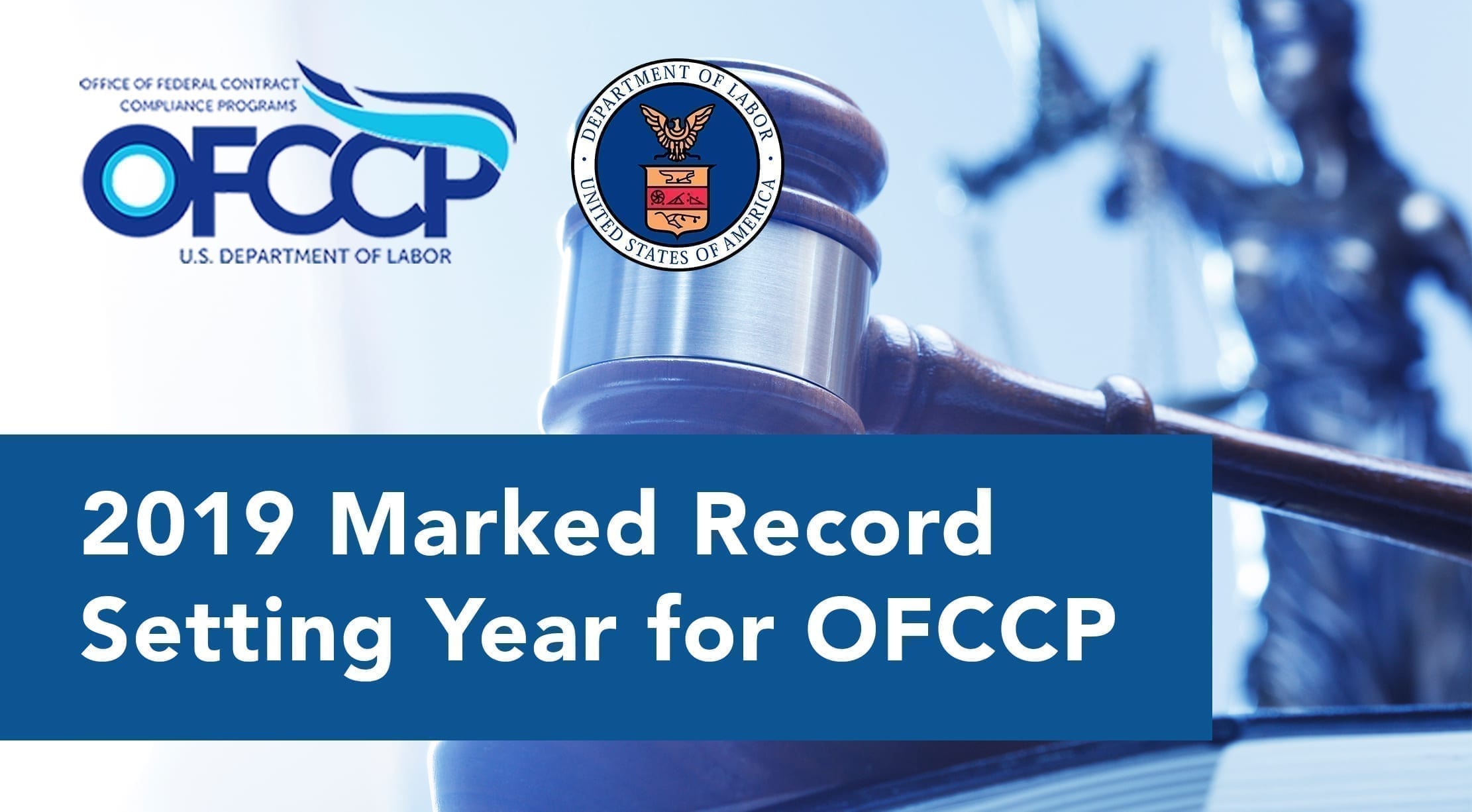 Last year, the United States Department of Labor's Office of Federal Contract Compliance underwent a lot of changes.
The OFCCP announced it would no longer use EEO-1 Component 2 pay data. The agency launched a number of new resources including a virtual help desk and self audit program. And the OFCCP also made changes to its policies, including implementing a new Early Resolution Procedures program and changing the way it handles focused reviews.
The OFCCP also achieved a number of achievements last year. In October, the agency set a record when it secured the largest wage discrimination conciliation agreements in the OFCCP's history. This included a $9,995,000 agreement for back pay and interest with Goldman Sachs & Co. LLC and a $7,000,000 agreement with Dell Technologies for back pay and salary adjustments.
However, that wasn't the only record the OFCCP broke. In the 2019 fiscal year, the OFCCP obtained a record $40,569,816 in monetary settlements for affected class members. That's more than $16 million more than settlements reach during the next highest year in 2017.
"Through a combination of effective enforcement and proactive compliance assistance, OFCCP has made a major impact on ensuring equal employment opportunity for America's workforce, and will continue to do so in the upcoming year," OFCCP Director Craig Leen said in a statement. "I am very proud of the OFCCP team because they are making a difference for the American workforce."
Additionally, the three-year total of monetary settlements for FY 2017-2019 is the highest three-year period on record and exceeded the prior seven years (FY 2010-2016) combined.
This monetary record includes a $5 million settlement with Intel Corp. to resolve pay discrimination allegations. It also includes a $4.2 million settlement with Bank of America to resolve discrimination violations.
"This is one of the largest settlements in OFCCP history, and this result will further the goal of equal employment opportunity," Leen said of the Bank of America settlement at the time.
In addition to its monetary wins, 2019 also marked a successful year for the OFCCP in terms of compliance assistance. In 2019, OFCCP answered over 4,500 Help Desk inquiries, the highest ever in a single year. The agency also provided contractors with helpful guidance through compliance assistance guides, FAQs, and stakeholder events.
"These results illustrate the effectiveness of jointly using compliance assistance and enforcement to support American workers," said U.S. Secretary of Labor Eugene Scalia.
As many of us know, the OFCCP is tasked with ensuring equal employment opportunity and non-discrimination in employment for the approximately 25 percent of America's workforce employed by federal contractors. The agency enforces Executive Order 11246, Section 503 of the Rehabilitation Act of 1973 and the Vietnam Era Veterans' Readjustment Assistance Act of 1974. These laws make it illegal for contractors and subcontractors doing business with the federal government (agencies) to discriminate in employment because of race, color, religion, sex, sexual orientation, gender identity, national origin, disability, or status as a protected veteran.
The OFCCP's 2019 track record on monetary settlements demonstrates the lengths the agency is willing to go to punish those contractors who engage in employment discrimination. However, its 2019 compliance assistance performance shows it is willing to help employers who want to avoid violating federal labor law.
---
Our OFCCP compliance experts at HR Unlimited Inc can help you save thousands of dollars in HR costs and penalties. Contact us today to learn more about our highly cost-effective Affirmative Action solutions!