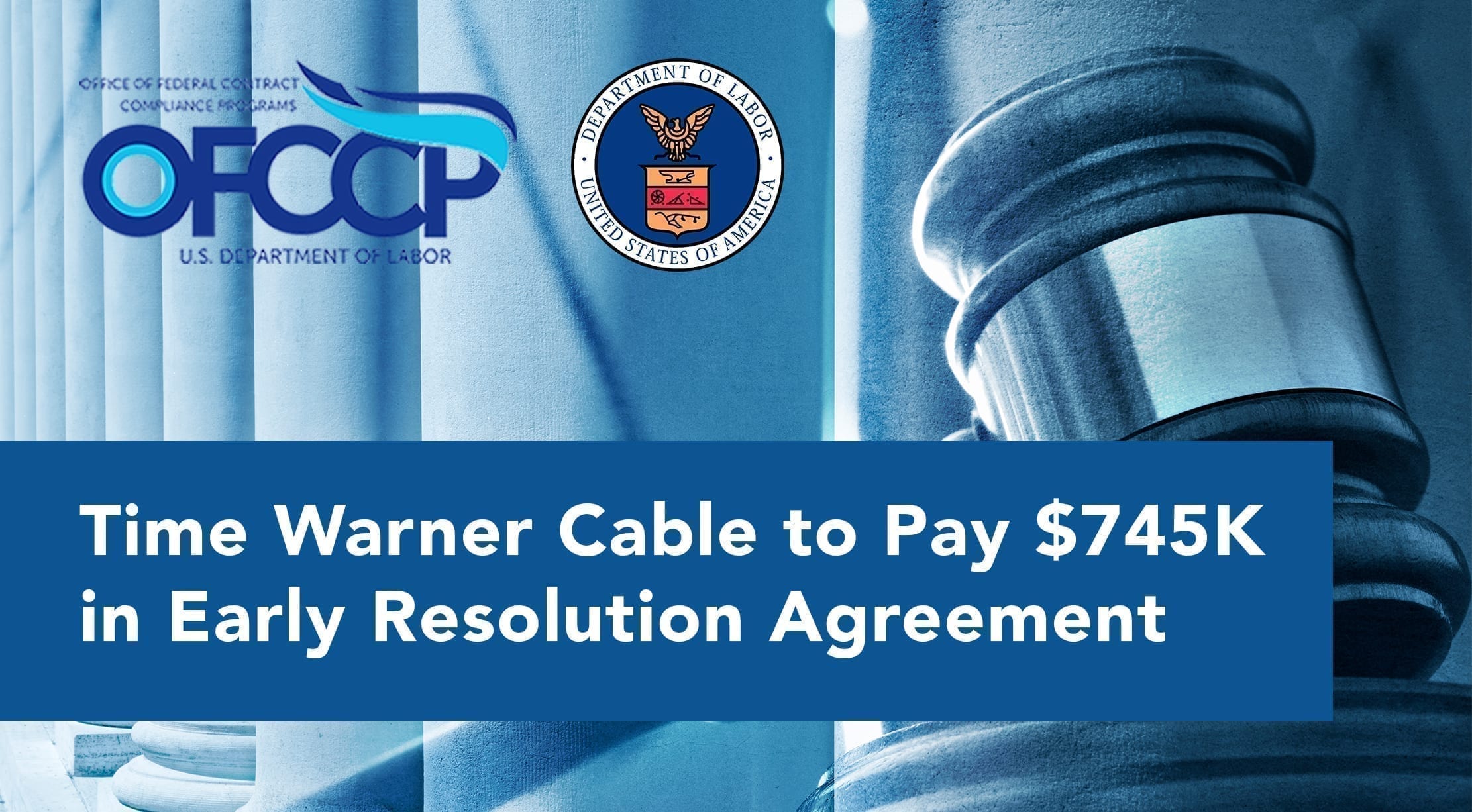 On February 19, the United States Department of Labor announced that Time Warner Cable LLC had agreed to pay $745,000 to resolve hiring discrimination violations.
The telecommunications company was subject to a routine evaluation by the DOL's Office of Federal Contract Compliance Programs. During the evaluation, the OFCCP found hiring discrimination violation at three Time Warner facilities. Specifically, the agency's findings showed the company discriminated against African Americans and women applying for sales representative, direct sales trainee and inbound tele-sales positions. The alleged violations occurred at facilities in Charlotte and Morrisville, North Carolina and West Columbia, South Carolina.
To resolve the violations, Time Warner has entered into an early resolution conciliation agreement but does not admit any wrongdoing. The $745,000 monetary agreement will go toward back wages.
"This agreement ensures Time Warner Cable takes action to remedy discrimination, and proactively adopts practices that prevent it from happening again at any of its facilities," OFCCP Southeast Regional Director Sam Maiden said in a press release.
Time Warner was one of the first federal contractors to volunteer for the relatively new early resolution process. It was established in November 2018 in an effort to resolve supply and service compliance evaluations at the earliest stage possible with corporate-wide compliance.
"OFCCP is satisfied that Time Warner Cable will pursue an early resolution conciliation agreement, and proactively address hiring and compensation equity nationwide," OFCCP Director Craig Leen said in the release. "OFCCP's Early Resolution Procedures program helps ensure prompter and broader relief for America's workforce by allowing contractors facing a potential violation to proactively correct such violations and enact best practices to ensure future companywide compliance."
While the early resolution process is a valuable resource for contractors looking to avoid litigation, monetary agreements reached through this process can be costly. These agreements also come with negative publicity because although the contractors do not admit to any wrongdoing, the OFCCP's press releases announcing the agreements highlight the alleged violations involved. The process can also be time consuming because contractors must provide corporate-wide reports to the OFCCP for five years following the agreement to ensure full compliance with their equal employment opportunity and non-discrimination obligations.
For these reasons, it's often better for contractors to engage in proactive compliance efforts to ensure they avoid the negative consequences associated with the early resolution process. As part of proactive compliance efforts, contractors should conduct regular audits and analyses of their workplace culture and hiring procedures and policies to ensure they are complying with federal laws. Remember Benjamin Franklin axiom that "an ounce of prevention is worth a pound of cure". It is true today and highlights the importance of best practices and self-audits. The OFCCP offers a number of resources for technical assistance, including a self-audit program that can help contractors uncover and address equal employment opportunity issues before they become larger problems.
---
Our certified HR advisors at HR Unlimited Inc can help you save thousands of dollars in HR costs and penalties. Contact us today to learn more about the many benefits of our Affirmative Action Partnership!