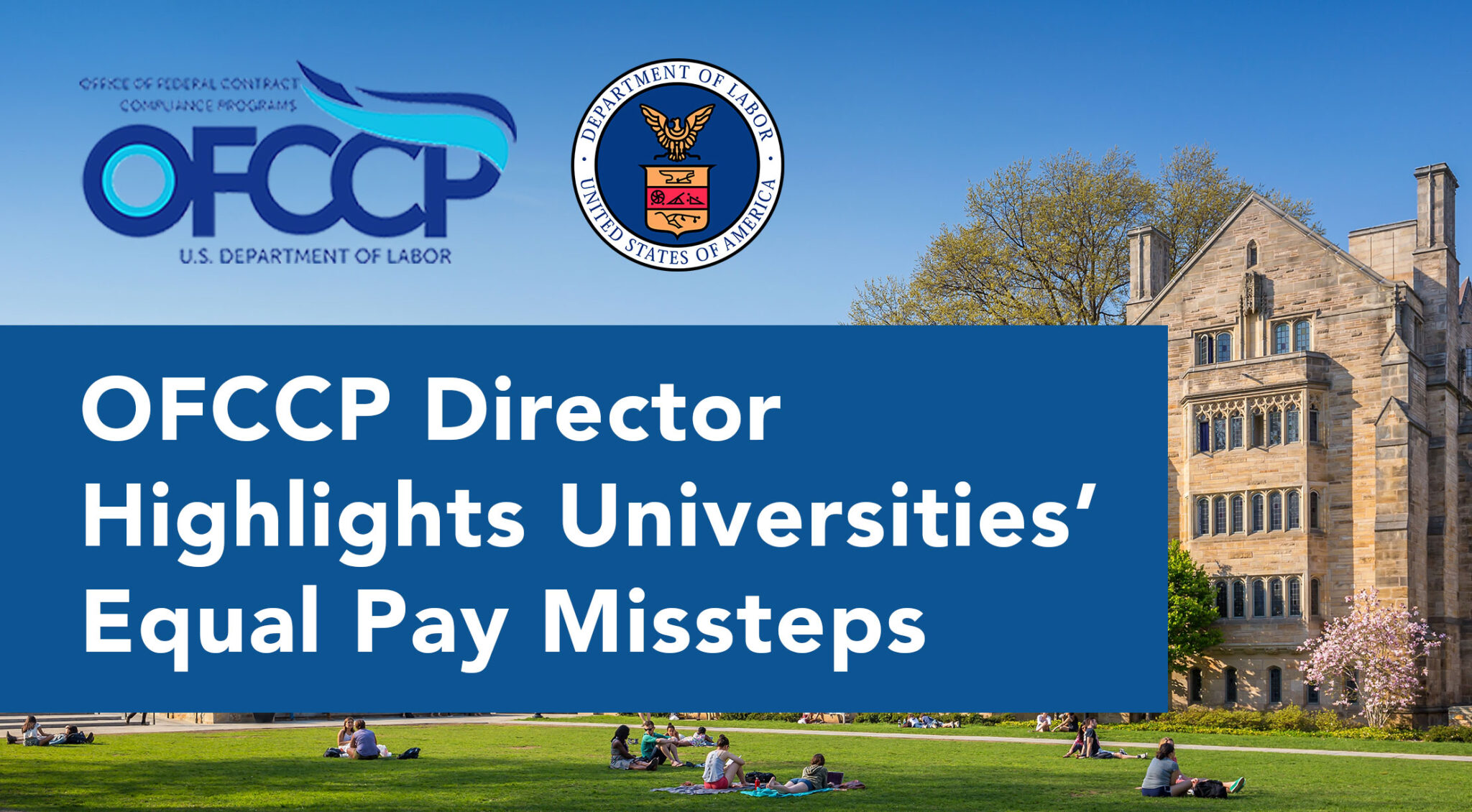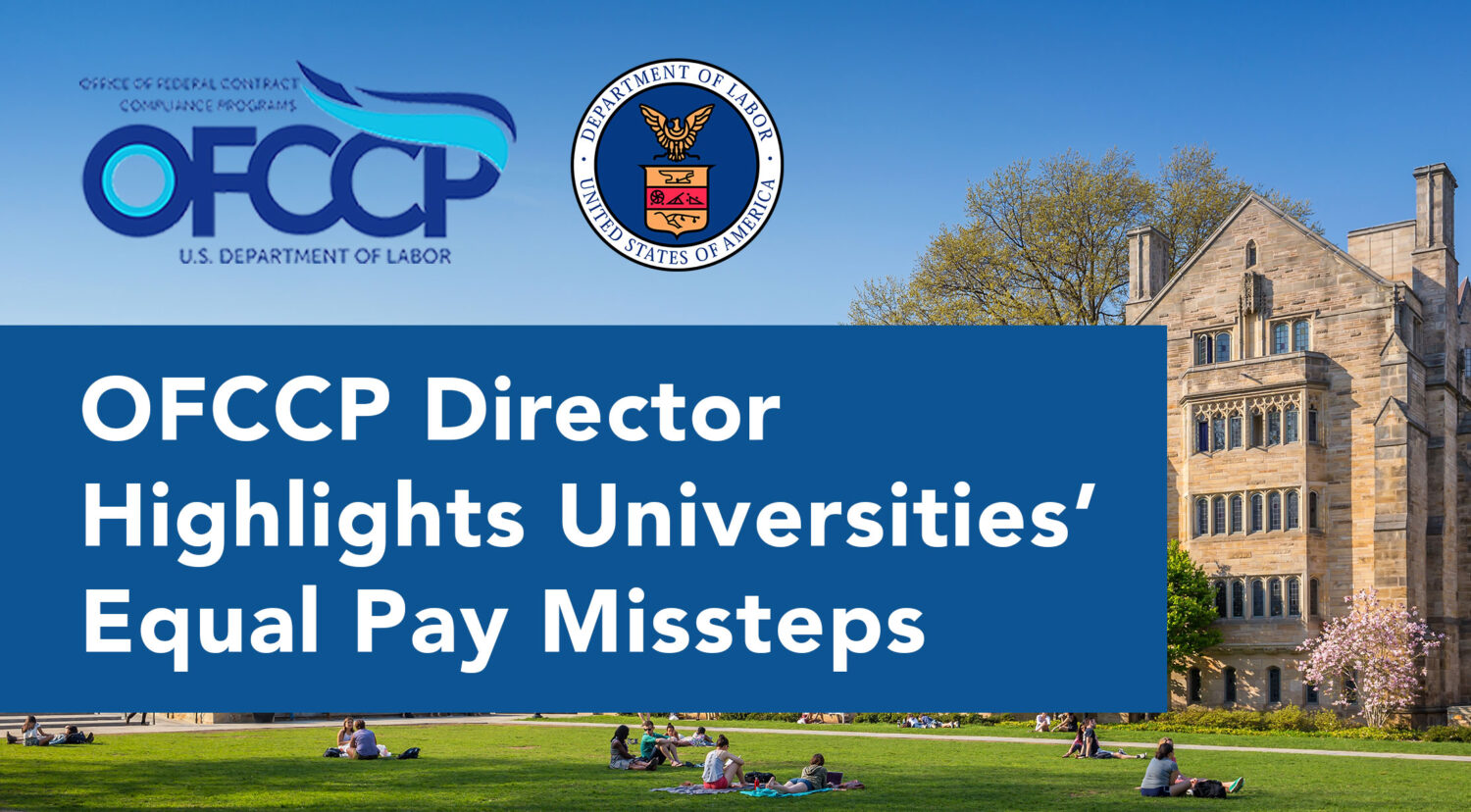 Federal contracts are lucrative but come with their share of burdensome compliance obligations. Among others, these include equal employment opportunity and affirmative action requirements that are enforced by the Office of Federal Contract Compliance Programs (OFCCP). Universities and colleges that provide contract services, like research, for the federal government are no exception to these requirements. In particular, the Equal Pay Act, Title VII, and Executive Order 11246 all prohibit pay discrimination based on gender.
In recent remarks to an audience of higher education HR professionals, OFCCP Director Jenny Yang underscored the agency's renewed focus on pay equity issues. Her discussion included mention of recent conciliation agreements in three high-profile cases which provide insight into what we can expect of future OFCCP enforcement efforts.
---
A. Princeton
---
As a part of a September 2020 early resolution conciliation agreement, Princeton University agreed to pay $925,000 in back pay and at least $250,000 in future salary adjustments to resolve allegations of equal pay infractions. More specifically, OFCCP alleged that 106 female full-time professors were paid less than their male counterparts between 2012-2014, even after adjusting pay comparisons for prior experience and education, along with years in their current job, at the University, within the department, and in full-time status.
Alleged technical violations also included that the University:
Did not collect and maintain adequate personnel and employment records, such as letters of recommendation, interview notes, and other documentation in the hiring and application process for certain positions;
Failed to evaluate individual components of the selection process for adverse impacts despite identifying statistically significant adverse impacts in the overall selection process; and
Did not sufficiently develop and execute programs to correct pay disparities or audit the effectiveness of its AAP.

 
---
B. University of Connecticut
---
The University of Connecticut agreed to pay nearly $250,000 in back pay to settle allegations of pay discrimination at its Storrs, Connecticut campus between 2012-2014. An OFCCP analysis determined that two female professors were paid less than similarly situated men, even after adjusting for legitimate factors that could account for the disparities. Their analysis also revealed pay disparities for females in the Specialist IA and Specialist IIA positions.  
OFCCP also cited several technical violations including not analyzing the employment process for gender-based pay disparities and failing to develop and implement internal audit and reporting systems to gauge the effectiveness of its AAP.
---
C. Yale University
---
Yale University agreed to pay $87,500 in backpay to resolve allegations that in 2016 it paid four female cardiologists at its medical school less than similarly situated male employees.  The pay disparities developed as a result of Yale's acquisition of hospitals and community practices with different compensation practices. Yale has since applied a uniform compensation structure for clinical faculty.
---
Pay equity best practices for federal contractors
---
Director Yang's comments are but one of many indicators signaling greater scrutiny of federal contractors' compensation practices. Pay equity will no doubt be a focus of compliance evaluations in the months ahead. Here's how federal contractors can begin to prepare.
---
1.
Self-monitor and audit pay practices
---
Federal contractors should have effective self-monitoring systems in place and conduct regular pay equity audits to ensure that compensation systems do not result in pay disparities based on gender, race, or ethnicity. Both the Princeton and University of Connecticut were cited for monitoring and auditing failures that could have likely prevented their equal pay infractions. 
Federal contractors are required by OFCCP to conduct regular analyses of compensation systems to identify potential disparities. Audits must specifically analyze pay by job title, pay grade, or department to assess whether race or gender‐based compensation disparities exist. If after controlling for factors that could explain pay differences, significant pay disparities are found, employers may need to take steps to adjust pay or the underlying factors that are contributing to pay disparities. 
Things like promotion decisions, performance ratings, access to training opportunities and preferred work assignments, and leave policies can all lead to inadvertent systematic pay disparities. Also, as the Yale case demonstrates, pay analyses should also examine potential differences in classification and pay for employees who are added in an acquisition or merger. Finally, employers should look beyond mere salary and wages in analyzing compensation practices. Additional incentives, such as vacation, expense accounts, access to overtime hours, and leave policies will be scrutinized by the OFCCP in evaluating overall pay equity. 
---
2.
Maintain adequate records
---
As demonstrated in the Princeton case, failing to collect and maintain adequate personnel and employment records can lead to technical OFCCP violations and also frustrate efforts to justify or explain alleged pay disparities. Federal contractors should have a system in place to collect and maintain relevant documentation that may be relevant to pay disparity analysis. Documents may include letters of recommendation, interview notes, and other documentation in the hiring and application process for a specific position, such as prior job history, education, certifications, and performance histories. 
Federal labor laws specifically require federal contractors to collect and maintain certain personnel and employment records, including:
Application forms/resumes;
Applicant flow logs, including recruitment sources and dispositions of applicants;
Job postings and advertisements;
Screening tests (if applicable) and results; and
Records concerning hiring, promotion, performance appraisals, demotion, transfer, layoff, or termination and also rates of pay and terms of compensation.
---
3.
Engage the help of a compliance professional
---
OFCCP has made clear that pay equity is in its crosshairs. But federal contract compliance doesn't stop at collecting and maintaining adequate records and conducting self-audits. Federal contractors need to have a system in place to ensure that policies and procedures are regularly evaluated for discriminatory impacts and that discovered infractions are adequately addressed.   
An experienced consultant in federal contracting compliance can help you identify and address compliance weaknesses and implement effective solutions to avoid OFCCP missteps.
---
Need help with your AAP compliance efforts? HR Unlimited Inc. can help! We have prepared thousands of AAPs and have been helping federal contractors with a full scope of AAP and EEO compliance services since 2001. Contact us today to learn more about the many benefits of our Affirmative Action Partnership!