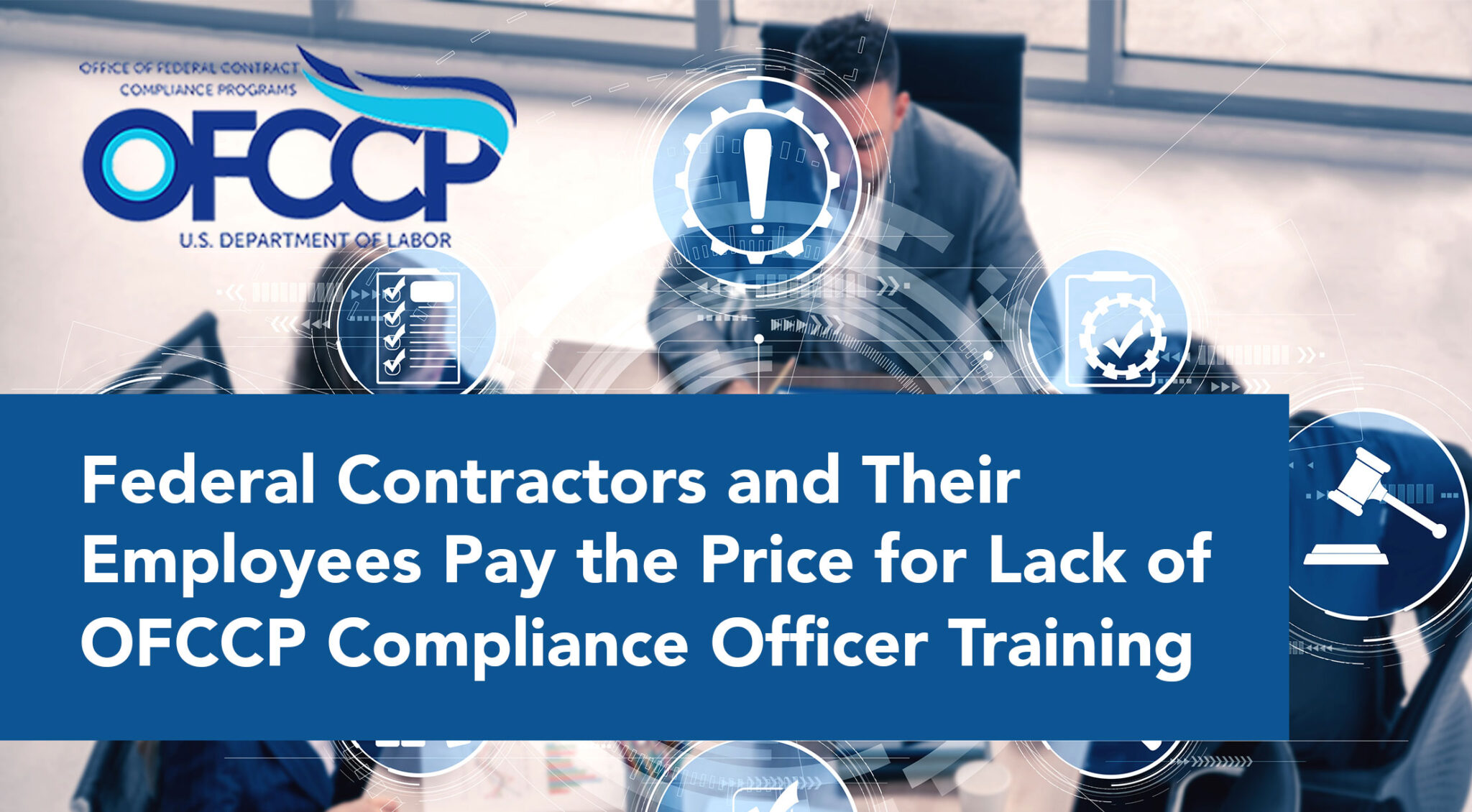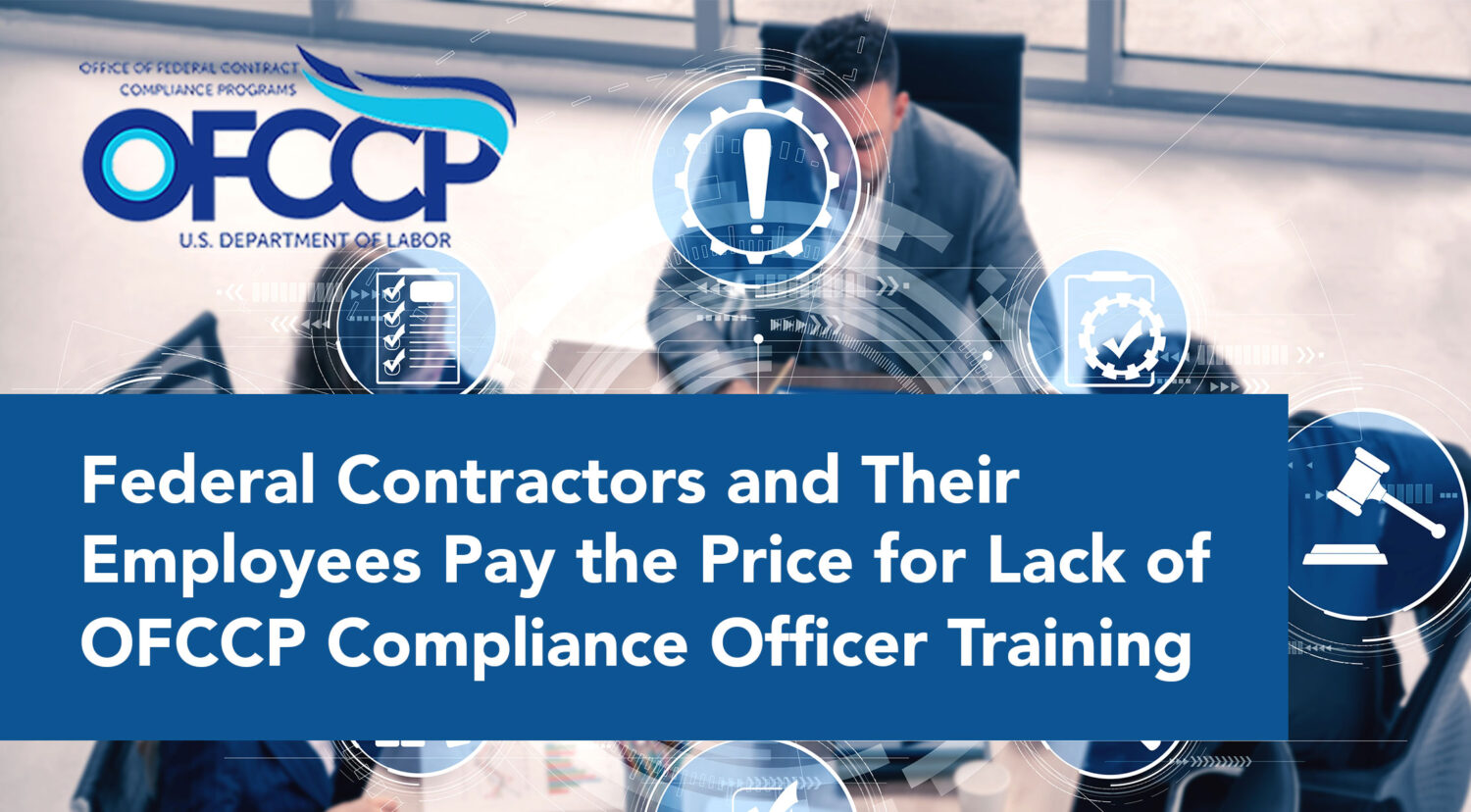 For over four years we've been anxiously following the progress made (or rather lack of) by the Office of Federal Contract Compliance Programs (OFCCP) in response to a 2016 Government Accountability Office (GAO) report. Why do we care about what the GAO says about OFCCP?  For one, as the "congressional watchdog" responsible for providing objective and non-partisan information about how effectively various parts of the government are operating, the GAO's investigation and reporting help ensure that each agency is effectively carrying out its mission without wasting taxpayer resources.
Second, and most front of mind for us at HR Unlimited is how the GAO's findings—and what OFCCP has done (or not done) about them—impacts Federal Contractors/Sub-Contractors in the OFCCP compliance audit process.
The compliance evaluation process is one of the key ways in which OFCCP carries out its enforcement activities. But year after year, we see our clients frustrated by a lack of clarity and consistency from compliance officers on how they interpret OFCCP regulations and requirements.  How can a company put its best foot forward with its diversity and EEO and initiatives when it is continually aiming at a moving and often opaque target?
What exactly did the GAO report say about OFCCP's shortcomings?
The GAO's review of OFCCP practices between 2010-2015 revealed that compliance evaluation activities were widely inconsistent, with the interpretation of OFCCP regulations varying greatly between regions or district offices. As a result, according to the report, a contractor with identical policies and practices among its various establishments can end up with drastically different compliance audit outcomes depending on the location of its establishments. In particular, the GAO report concluded that OFCCP's lack of training for compliance officers contributed to these inconsistencies.
Ironically, while OFCCP regulations require federal contractors to implement and regularly conduct diversity & inclusion training for employees and managers, OFCCP can't seem to get its own act together when it comes to training its own officers on how to conduct a compliance evaluation. Indeed, this was one of five key deficiencies—and one of six recommended actions to rectify these deficiencies—that resulted from the GAO's 2016 findings. The GAO specifically recommended that OFCCP take proactive steps to provide timely and uniform training to new staff and to provide continuing training opportunities to existing staff to ensure the quality and consistency of evaluations across regions and districts.     
In coming to its recommendations, the GAO noted that while new compliance officers receive a 16-unit training on the compliance evaluation process, many new officers don't receive that training until many months into the job. In their defense, however, compliance officers are now less than half the size that used to be 10 years ago.  Moreover, they have been bombarded by many Directives by different administrations, adding more confusion and less clarity to how to consistently enforce regulations.  Budget and resource restraints have allegedly limited OFCCP's ability to hold timely training, leaving new compliance officers with little more than on-the-job training or receiving ad hoc advice from more seasoned compliance offers.
Confoundingly, the GAO has noted that incumbent compliance officers are also deficient in their receipt of needed training. In the GAO's 2016 report, existing compliance officers noted a gap in skills and professional training, limiting their ability to "correctly and consistently conduct compliance evaluations." Thus as new officers look to their peers to fill the training void, they are perhaps being trained the wrong things by their more experienced peers who may not know any better for lack of their own training. All of these inconsistencies are amplified further when some regional or district offices impose their own "informal, non-standardized" training for new hires in an effort to bridge the training gap.
What has OFCCP done so far?
GAO reviewed its 2016 findings in 2019 and found that although OFCCP had taken steps to develop a new training curriculum for new compliance officers, it had yet to implement a learning management system to make sure employees actually get the training. In other words, three years after the GAO's initial report, compliance officers were still not receiving the training that they needed.
Concerningly, OFCCP reports that it did not engage a consultant on the matter until 2018 and only completed an assessment and plan of action to revamp its training practices as of 2019.  While OFCCP's 2019 progress report to the GAO indicated it was planning to roll out new training for compliance officers in January of 2020, we have yet to hear that OFCCP has made good on its promise. In the meantime, we continue to see the deleterious effects that OFCCP's employee training deficiencies continue to have on the community of Federal Contractors/Sub-Contractors.
Federal contractors continue to pay unfairly for OFCCP's compliance audit missteps
As OFCCP continues to drag its feet on implementing long-overdue compliance officer training, federal contractors continue to pay the price. Between October 2016 and September 2020, OFCCP reports that it levied $116 million in fines against federal contractors. But with its wildly inconsistent compliance audit practices, how many of these penalties are fully justified? I wonder. And are some federal contractors unfairly escaping review or consequence just because they are in a particular OFCCP jurisdiction with interpretations and practices that differ from other districts and regions?
Fines and penalties aside, we often see federal contractors having to expend countless hours of employee time and resources responding to drawn-out compliance audit investigations and overbroad and unduly burdensome document requests. Added to these burdens is the potential for negative press and internal reputational damage that follow from a long and drawn-out investigation.
As a result, and as was indicated in the 2016 audit, federal contractors are fearful of navigating the compliance audit process alone and feel obligated to hire a consultant to help them through the process. But federal contractors must be proactive to ensure they are taking the right steps to create diversity and eliminate bias in the workplace, not because they feel backed into a corner by OFCCP's Russian roulette approach to conducting compliance audits.
The solution is simple
Year after year, we help our clients navigate their tenuous position of trying to effectively meet OFCCP compliance obligations amidst a cacophony of inconsistent practices, procedures, and regulatory interpretations. Frustratingly, OFCCP already knows what it needs to do. The GAO laid it out plain and simple in its 2016 report; OFCCP needs to consistently and regularly train its compliance officers. OFCCP has simply failed to act timely on what it already knows it needs to do.       
We can only hope that under a new administration, OFCCP will be able to turn over a new leaf to rectify a legacy of missteps that has left federal contractors struggling to understand their equal employment obligations. In the meantime, federal contractors should continue to apply and regularly examine their compliance requirements to ensure the absence of bias in employment and to be ready to navigate the compliance audit process. Advocacy for improvements to OFCCP's training efforts must rise and continue to ensure its staff gets the training it needs—and federal contractors get the compliance audits they deserve.
In the meantime, we look forward to a day when federal contractors can stop stumbling through the compliance audit process with fear and confusion; when they can finally have transparency, certainty, and the partner they need in OFCCP to help them excel at providing a diverse and bias-free workplace, as the compliance audit process was originally intended to achieve.
---
Need help with your AAP compliance efforts? HR Unlimited Inc. can help! Our comprehensive affirmative action services assist you in all phases of affirmative action compliance. Contact us today to learn more about the many benefits of our Affirmative Action Partnership!