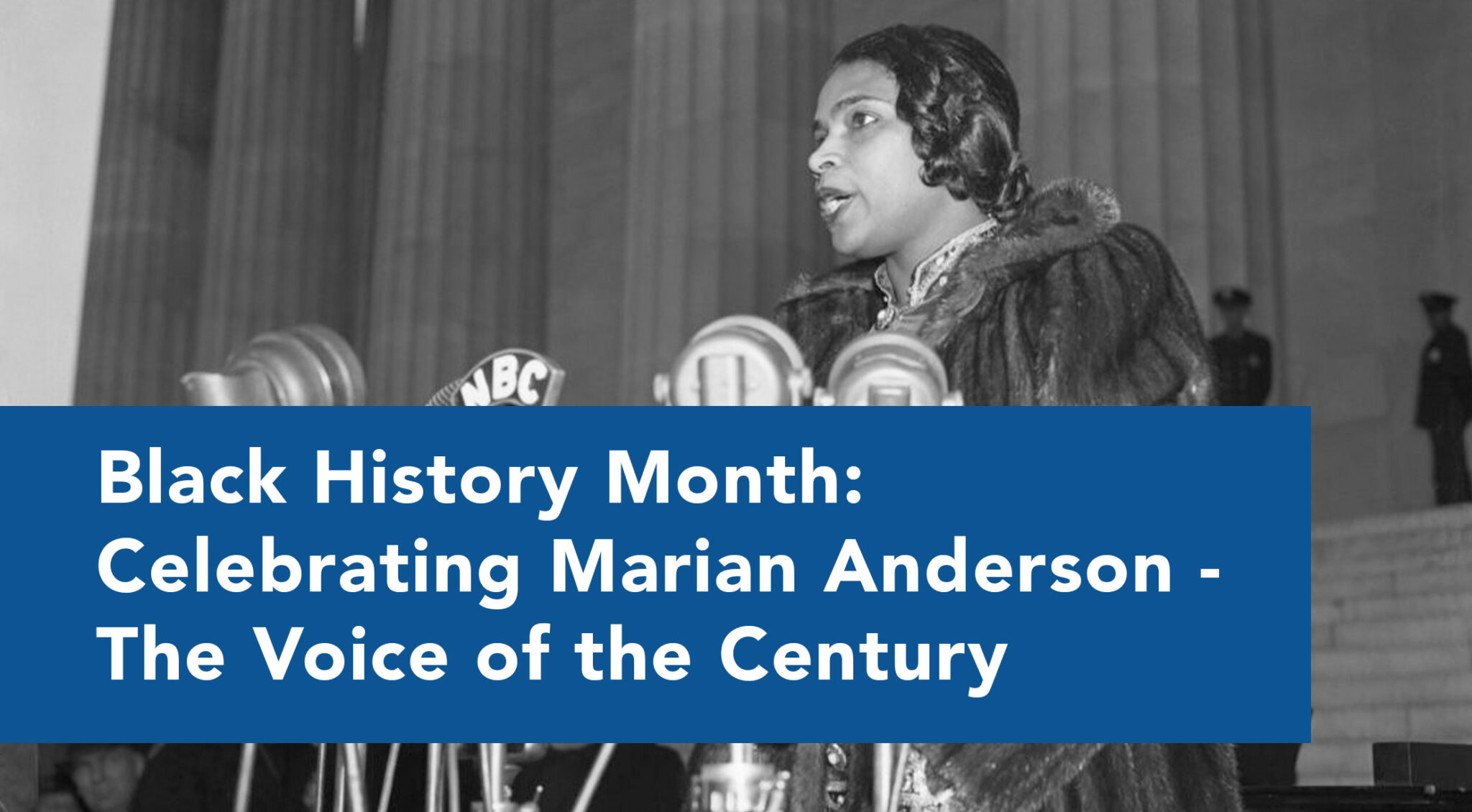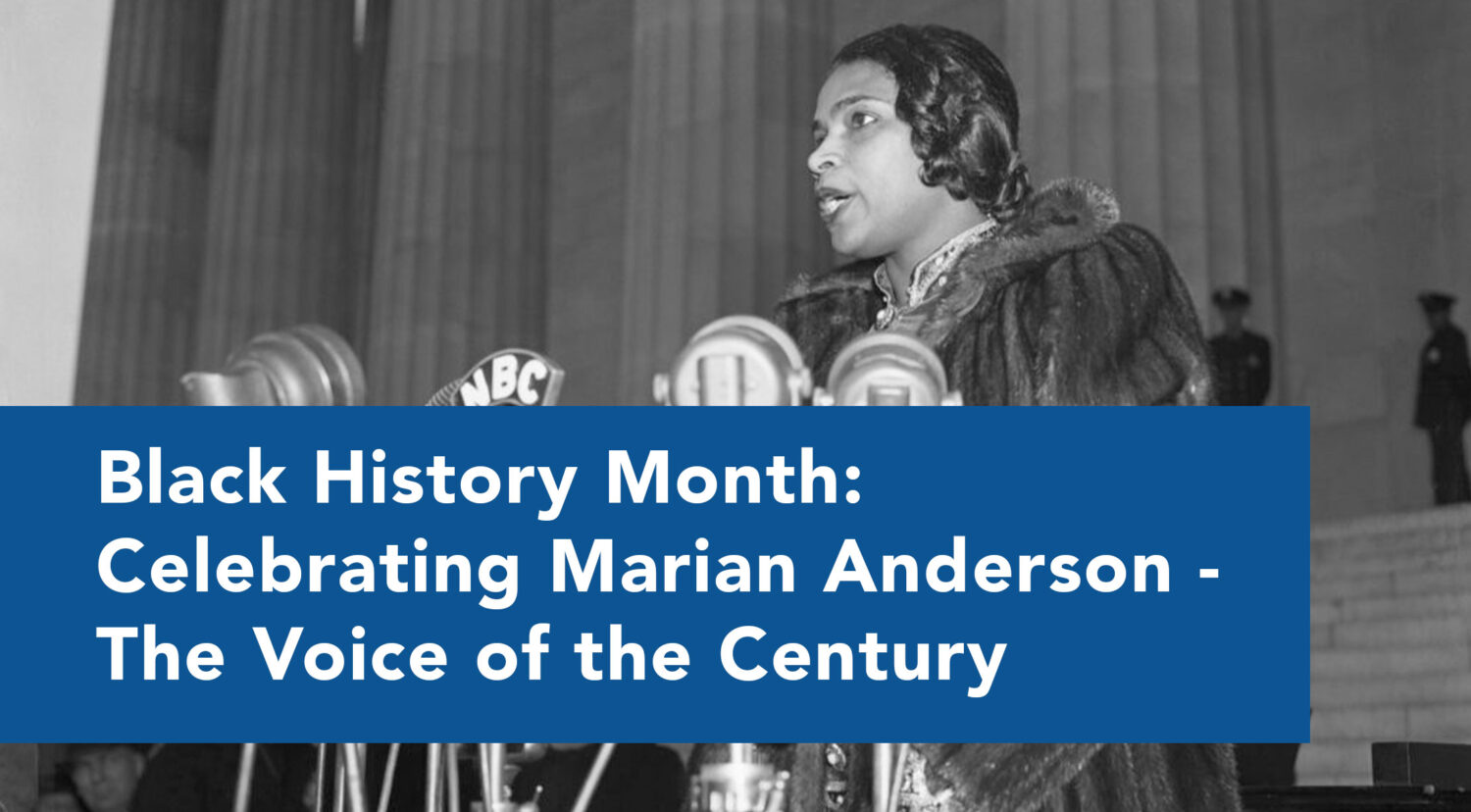 As this month's celebration of Black History Month brings to light the stories of many of our nation's unsung heroes, we take pause at the story of Marian Anderson—a Black American contralto opera singer of the early nineteenth century whose talent was so exemplary that she was deemed to be "the voice of the century."  
Her company was sought by Europe's royalty and elite, where she performed to adoring fans and sold-out crowds.  And yet her talent and accomplishments did not insulate her from the racial bias and Jim Crow laws that pervaded America at her performative zenith. 
Interestingly, the story of this profound American talent and civil rights pioneer often escapes telling in the history books. We take a moment here to explore who Marian Anderson was and what we can learn from her example. 
---
Marian Anderson: Musical Genius and Civil Rights Trailblazer
---
Born in 1897 to a South Philadelphia teamster (who died when Anderson was 6) and his laundress wife, Anderson had a childhood of meager beginnings.  Like many a musical genius, she discovered her love of singing early, and as a member of her church choir, she was given ample opportunity to use her gift. Her church and community were later instrumental in providing her scholarship and support to pursue formal studies. 
Although she was turned down from her first formal application for voice study due to her color, she persevered in honing her craft. She eventually made two tours of Europe to continue her studies, where she gained international stardom.  
Anderson's fame is most often associated with her 1939 performance to a desegregated crowd of 75,000 on the steps of the Lincoln Memorial on Easter Sunday. The concert was notable for being the largest audience to whom she had performed to date, and for its auspicious location.
Anderson had originally sought to perform at the Daughters of the American Revolution's (DAR) Constitution Hall, the only Washington, D.C. venue big enough to handle the crowds expected for an international phenom like Anderson. But she was denied the opportunity because of her race. This set off a firestorm of press and political action. 
First Lady Eleanor Roosevelt renounced her DAR membership over the scandal and schemed with the NAACP to find an appropriate venue—Interior Secretary Harold Ickes suggested the steps of the Lincoln Memorial.
Anderson's performance that day is viewed by many as a defining moment in the Civil Rights Movement, galvanizing and inspiring others to the cause of ending discrimination and segregation in America. 
As she began her performance, her sung words sparked a shiver in the spine and the collective conscience:
"My country, 'tis of thee' to thee we sing."  
With the simple act of holding her space, she proclaimed as Icke's had in his introduction of her to the crowd, that "Genius, like justice, is blind. Genius draws no color lines."
Anderson went on in her career to leverage her extraordinary talent to explode racial barriers. She was the first Black soloist to perform at the Metropolitan Opera, the first Black singer to perform at the White House, sang at two presidential inaugurations, and was named a U.S. delegate to the United Nations. She received the Presidential Medal of Freedom, Kennedy Center Honors, and an honorary Grammy Award for Lifetime Achievement. 
---
The Lessons in Marian Anderson's Story
---
Talent can be used as a force for change
Elaine Welteroth said it best: "Sometimes just being yourself is the radical act. When you occupy space in systems that weren't built for you, your authenticity is activism." 
Marian Anderson seemed to understand this concept well before her time. Her authenticity was her activism. She proved to others that the simple (but not always easy) act of holding your space can have a profound influence on others.  
"What I had was singing, and if my career has been of some consequence, then that's my contribution." -Marian Anderson  
We still have work to do
In today's "war for talent," businesses lament the dearth of talent that they so desperately need to drive growth. But how many Marian Andersons are we overlooking because of the vestiges of systemic racism that still plague our hiring and promotion practices?   
For those who argue that affirmative action is outdated and unnecessary, consider this:
Women still make up only 7.4% of Fortune 500 CEOs. And since the Fortune 500 list first began its publication in 1955, there have been only 19 Black CEOs out of its 1,800 chiefs. 
We can all look forward to a day when we will have done enough to counter the effects of systemic racism and can consider affirmative action a thing of the past. But in the meantime, there is clearly still a lot to be done.  
At HR Unlimited, affirmative action advocacy is something we are very passionate about. That's because we know that a workplace representative of the community at large isn't just the right thing to do, it's also good for business. As we work with our clients to design and implement their affirmative action plans, they are often surprised to find new talent, efficiencies, and growth as the natural consequence of their affirmative action efforts. 
Time and again, we have shown our clients that affirmative action isn't just a "check the box" activity. Workplace diversity boosts employee creativity, innovation, decision-making skills, and satisfaction. And it's also critical to finding and attracting the elite talent that is needed to drive growth. The key to this diversity is a well-designed system for affirmative action compliance.
As we commemorate this year's celebration of Black History Month, we recognize that the underappreciated told stories like those of Marian Anderson hold an important lesson. We are surrounded by genius and talent that is still hiding in plain sight for lack of a level playing field. Embracing our affirmative action mandate is an important first step to ensuring that our nation's untapped talent finds its voice and its place in American history.
---
If you need help with your AAP compliance efforts, HR Unlimited Inc. can help! Our comprehensive affirmative action services assist you in all phases of affirmative action compliance. Contact us today to learn more about the many benefits of our Affirmative Action Partnership!