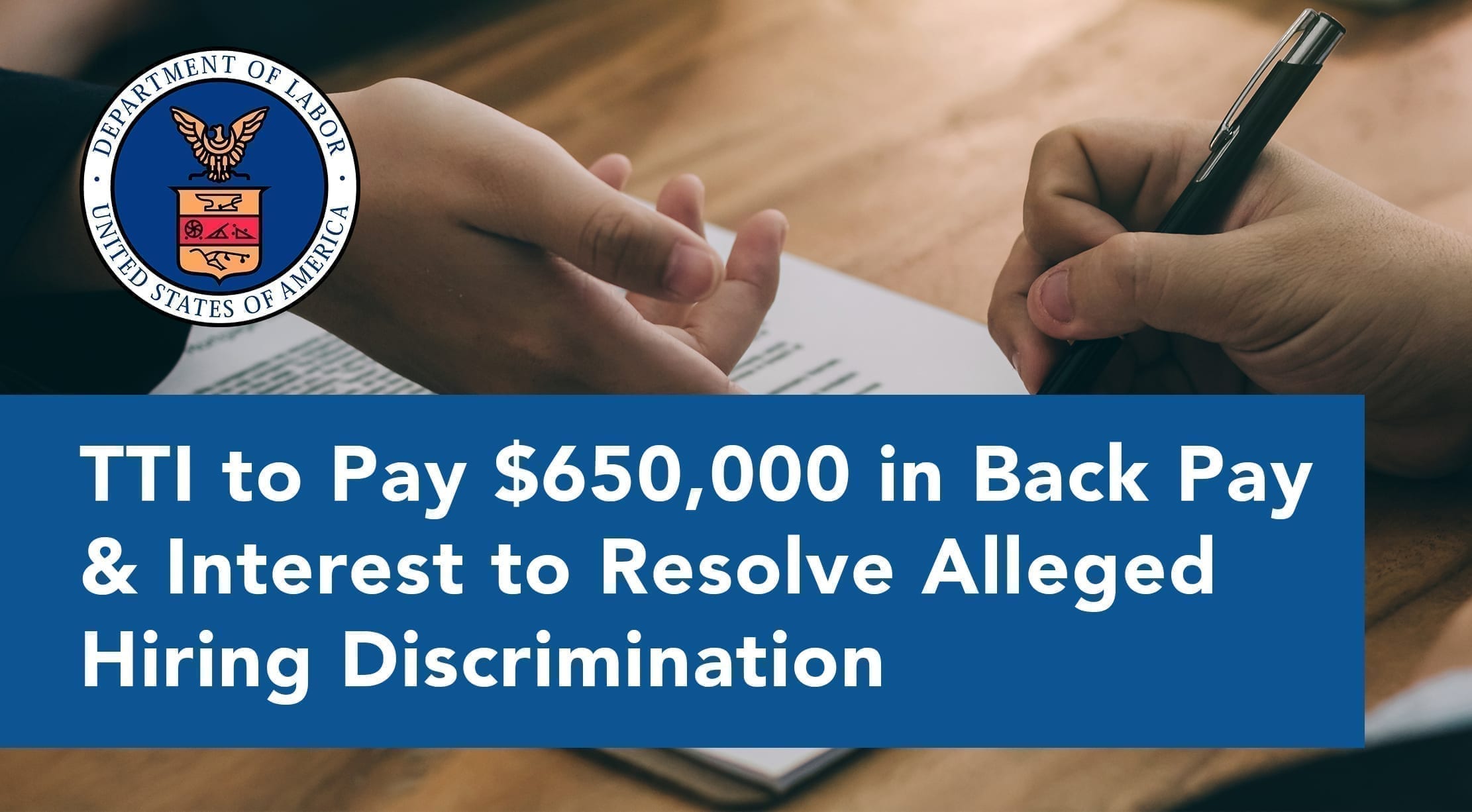 On July 7, the U.S. Department of Labor announced it had entered into a conciliation agreement with electronic components distributor TTI Inc. to resolve allegations of hiring discrimination.
The alleged discrimination occurred at TTI's Sylvania and Northeast Parkway locations in Fort Worth, Texas. A compliance evaluation by the DOL's Office of Federal Contract Compliance Programs found that beginning in 2012, the company discriminated against African American and male applicants for Operator I positions and against African American applicants for Operator II positions.
These actions were in violation of Executive Order 11246, which prohibits federal contractors from discriminating on the basis of race, color or national origin in employment. TTI currently has contracts valued at more than $1 million with the U.S. Defense Logistics Agency.
As part of the conciliation agreement, TTI will pay $650,000 in back pay and interest. The company will also provide Operator I job opportunities to 50 affected African American and male applicants, and seven Operator II job opportunities to African American applicants as positions become available.
"The U.S. Department of Labor is committed to working with employers to resolve compliance issues," OFCCP Regional Director Melissa Speer, in Dallas, Texas, said in a press release. "This agreement with TTI Inc. ensures the company has the tools in place to comply with federal hiring and equal employment opportunity laws."
While TTI does not admit liability, the company is required to take steps to improve its personnel practices. These include ensuring its recordkeeping and internal auditing procedures meet legal requirements.
This wasn't the only agreement the OFCCP announced this week. The agency also reached an agreement with technology services company Mphasis Corp. to resolve allegations of discrimination.
In a routine compliance evaluation that occurred between 2015 and 2017, OFCCP found that Mphasis discriminated against white applicants in favor of Asian applicants for computer systems analyst positions.
Mphasis will pay $171,300 in lost wages to resolve these allegations. The company must also extend job opportunities to 14 class members and take steps to ensure its personnel practices meet all legal requirements. Mphasis does not admit liability as part of the agreement.
"Federal contractors are required to provide equal employment opportunity to all applicants regardless of race and ethnicity," said OFCCP Regional Director Jane Suhr, in San Francisco, in a press release.
The bottom-line, review your selection process to ensure it is bias free and it is based on job qualifications. Additionally, maintain a compliant recordkeeping system, including but not limited to applicant tracking.
---
Our certified HR advisors at HR Unlimited Inc. can help you save thousands of dollars in HR costs and penalties. Contact us today to learn more about the many benefits of our Affirmative Action Partnership!