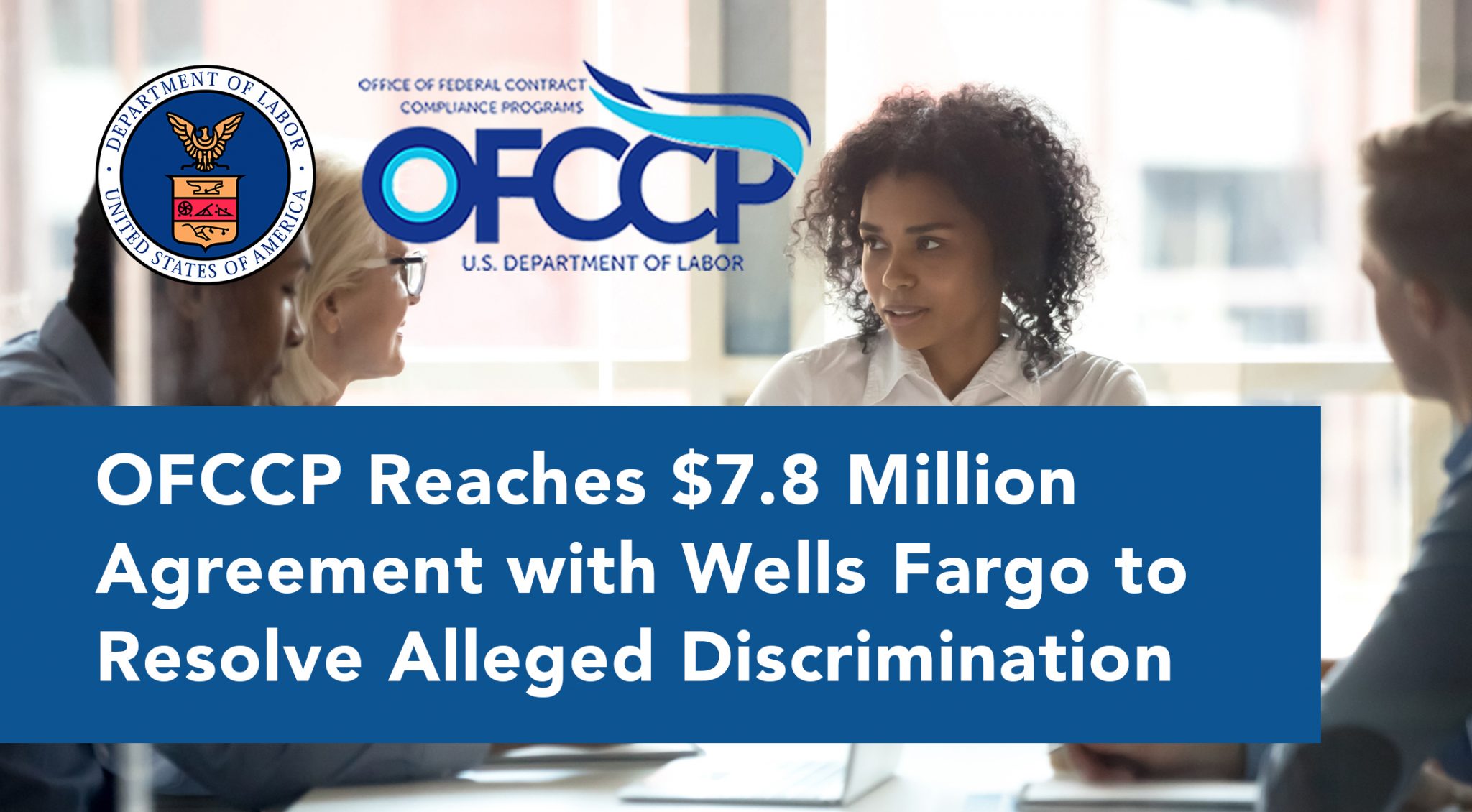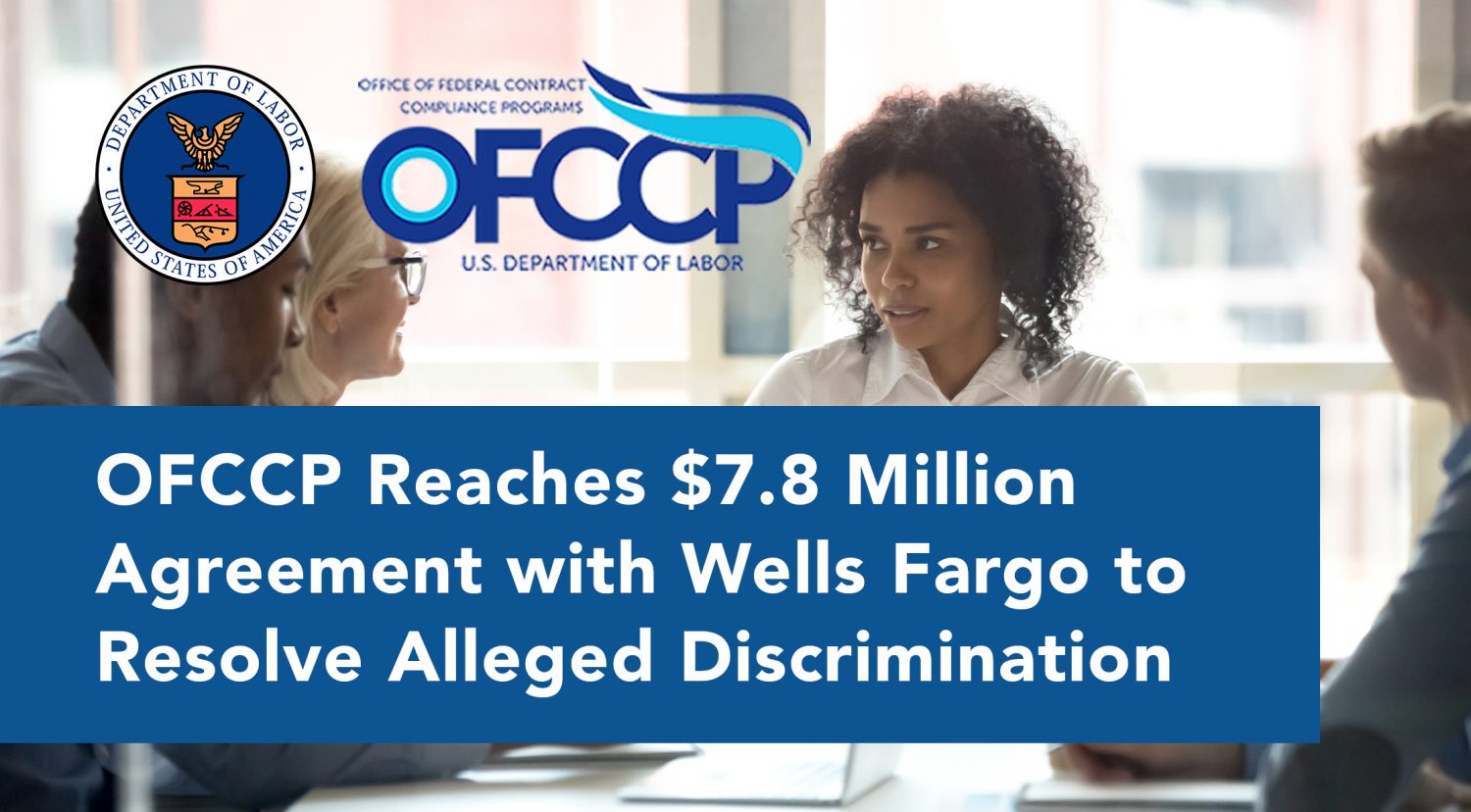 On August 24, the U.S. Department of Labor announced it has entered into a conciliation agreement with Wells Fargo Bank N.A. to resolve allegations of hiring discrimination. As part of the agreement Wells Fargo will pay $7,800,000 in back wages and interest.
The DOL's Office of Federal Contract Compliance Programs claimed that Wells Fargo discriminated against 34,193 African American applicants for banking, customer sales and service, and administrative support positions at various locations around the United States. The OFCCP also alleged that Wells Fargo discriminated against 308 female applicants for administrative support positions.
"We appreciate Wells Fargo's cooperation to resolve these issues," OFCCP Regional Director Melissa Speer, in Dallas, Texas, said in a press release. "Together, the Department and Wells Fargo will ensure the bank will proactively take steps to comply with federal hiring and equal employment opportunity laws."
The agreement between OFCCP and Wells Fargo came to fruition via the agency's early resolution procedure process. The ERP process is designed to resolve supply and service compliance evaluations at the earliest stage possible with corporate-wide compliance resolution. It allows contractors with multiple establishments to work with the OFCCP to implement corporate-wide compliance and efficiently resolve issues.
As part of the agreement, Wells Fargo is also required to provide 580 affected applicants with job opportunities as tellers, personal bankers, customer sales and service representatives, and administrative support positions.
"The Office of Federal Contract Compliance Programs is satisfied that Wells Fargo has pursued an early resolution conciliation agreement, and addressed the issues found in our review," OFCCP Director Craig E. Leen said in the release. "OFCCP's Early Resolution Procedures program helps ensure prompter and broader relief for America's workforce by allowing contractors facing a potential violation to proactively correct such violations and ensure future company-wide compliance."
Wells Fargo does not admit any liability in the agreement, but in some ways the damage is already done. The company will now have to pay a costly settlement and Wells Fargo's reputation has suffered as a result of the discrimination allegations and negative publicity.
Here are a few best practices for how to avoid violating applicable federal regulations.
---
1. Diversify Your Talent Pool
---
Having a diverse workforce starts with having a diverse pool of candidates to choose from during the hiring process. For this reason, employers should avoid word‐of‐mouth recruitment or referrals. These practices will only draw applicants who reflect your current workforce. Instead employers must post and provide notice of hiring or promotional opportunities, vacancies and/or selection criteria so that they can ensure their talent pool is well diverse and inclusive.
---
2. Be Proactive
---
In order to avoid discrimination allegations during an OFCCP compliance evaluation, employers should be consistently evaluating their selection process and practices. In order to identify hiring discrimination and quickly address it, employers should regularly review data related to applicants and hires. This data should be analyzed to determine whether any particular group of applicants is being disproportionately screened out at a certain stage of the hiring process.
---
3. Remain Objective
---
Hiring decisions should only be made with objective measures (job-related criteria). These measures should be applied equally and consistently across the board. It can often be beneficial to implement uniform selection criteria such as written tests, but only if the tests are fair, nondiscriminatory and a true predictor of job performance. Selection criteria should be regularly evaluated to uncover adverse impact and disparities. Any element of the selection process that disadvantages members of a particular race, sex, or ethnic group should be eliminated.
---
Our certified HR advisors at HR Unlimited Inc. can help you save thousands of dollars in HR costs and penalties. Contact us today to learn more about the many benefits of our Affirmative Action partnership!