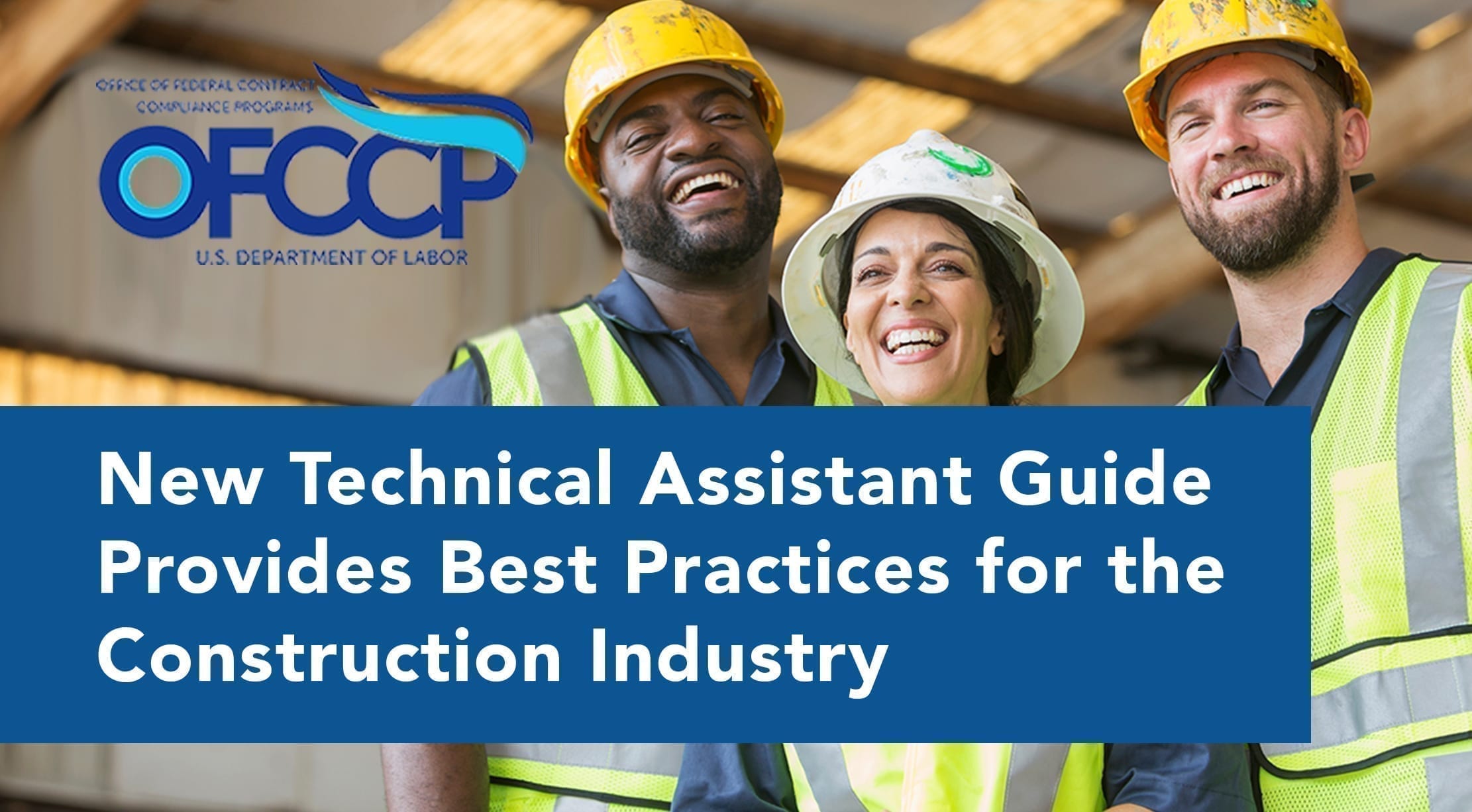 In 2016, the United States Department of Labor sued a Maryland-based construction contractor for alleged employment discrimination against 150 employees. The suit was one of several against federal construction contractors in recent years, some of which have resulted in costly settlements. 
In November of last year, the DOL's Office of Federal Contract Compliance Programs released a technical assistance guide specifically for the construction industry. The guide was the latest attempt by the OFCCP to increase transparency around the federal contractor compliance process and help contractors stay in line. 
"The Construction Technical Assistance Guide provides comprehensive and clear guidance that will help ensure equal employment opportunity and non-discrimination in the construction sector," OFFCP Director Craig Leen said in a press release at the time. 
The Construction Technical Assistance Guide provides contractors with information on their legal requirements and responsibilities concerning equal employment opportunity. The guide is a resource for helping contractors prevent violations before they occur.
"OFCCP published the TAG for the construction industry to reflect current regulations and provide practical, useful compliance assistance resources for contractors in the construction industry," the release says. "This guide provides a valuable self-assessment tool for contractors to review the practices they have in place to eliminate discrimination and achieve their equal employment opportunity goals. At a minimum, this guide will help federal construction contractors meet all of their obligations required under the law. It also highlights best practices and provides useful references."
---
Here are three best practices contained in the newly updated guide: 
---
1. Postings, Listings and Notices:
Construction contractors have an obligation under Executive Order 11246 and the Vietnam Era Veterans Readjustment Assistance Act to take affirmative action to ensure equal employment opportunity. TAG provides guidance on how contractors can accomplish this through postings, listings and notices.
These include: 
Posting the "EEO is the Law" poster and the "Pay Transparency Nondiscrimination Provision" to inform applicants and employees about their protections from discrimination under federal law
Provide notice to any unions with which the contractor has a collective bargaining agreement of the contractor's equal opportunity obligations 
Provide notice to job seekers that they are an equal opportunity employer by using taglines in job advertisements 
Provide notice to subcontractors of their nondiscrimination and affirmative action obligations by incorporating equal opportunity clauses into subcontracts and purchase orders 
Notify employment agencies that they are a federal contractor and want priority referrals of veterans
2. Recordkeeping:
Federal construction contractors must keep personnel and employment records about their entire on-site construction trade workforce. This requirement applies to all locations where the contractor performs any federal or nonfederal construction work.
TAG provides a list of the records construction contractors must keep.
These include: 
Documents pertaining to hiring, assignment, promotion, demotion, transfer, layoff, termination, rates of pay or other terms of compensation 
Documents of selection for training and apprenticeship, job postings, job advertisements
Applications, resumes, tests, test results, and job interview notes 
For each employee, contractors must also keep records that include, at a minimum, the name, address, telephone number, social security number, race, ethnicity, sex, rate of pay, construction trade, job title, dates of changes in job status, hours worked per week in each indicated trade, locations at which the work was performed, union affiliation if any, and employee identification number if any
A separate confidential medical file apart from an applicant's general file for documents related to physical examinations and requests for reasonable accommodation
3. Participation Goals:
As part of their affirmative action obligations, construction contractors are required to pursue participation goals for women and minorities, based on the participation rates of women and minorities in the construction civilian labor force. Contractors must work toward these goals by following the sixteen affirmative action steps/specifications laid out in the guide.
While these goals are not quotas, the OFCCP has assigned numerical values to the participation goals. Across the country, the current participation goal for women is 6.9 percent of work hours. For other minority groups, the participation goals vary according to geographic area. The guide provides an appendix for determining the established participation goal in your area.
---
Whether you have questions about Affirmative Actions or Compliance, would like to find out more about our webinars, or would like to request a proposal, we will be happy to promptly respond to your inquiry.