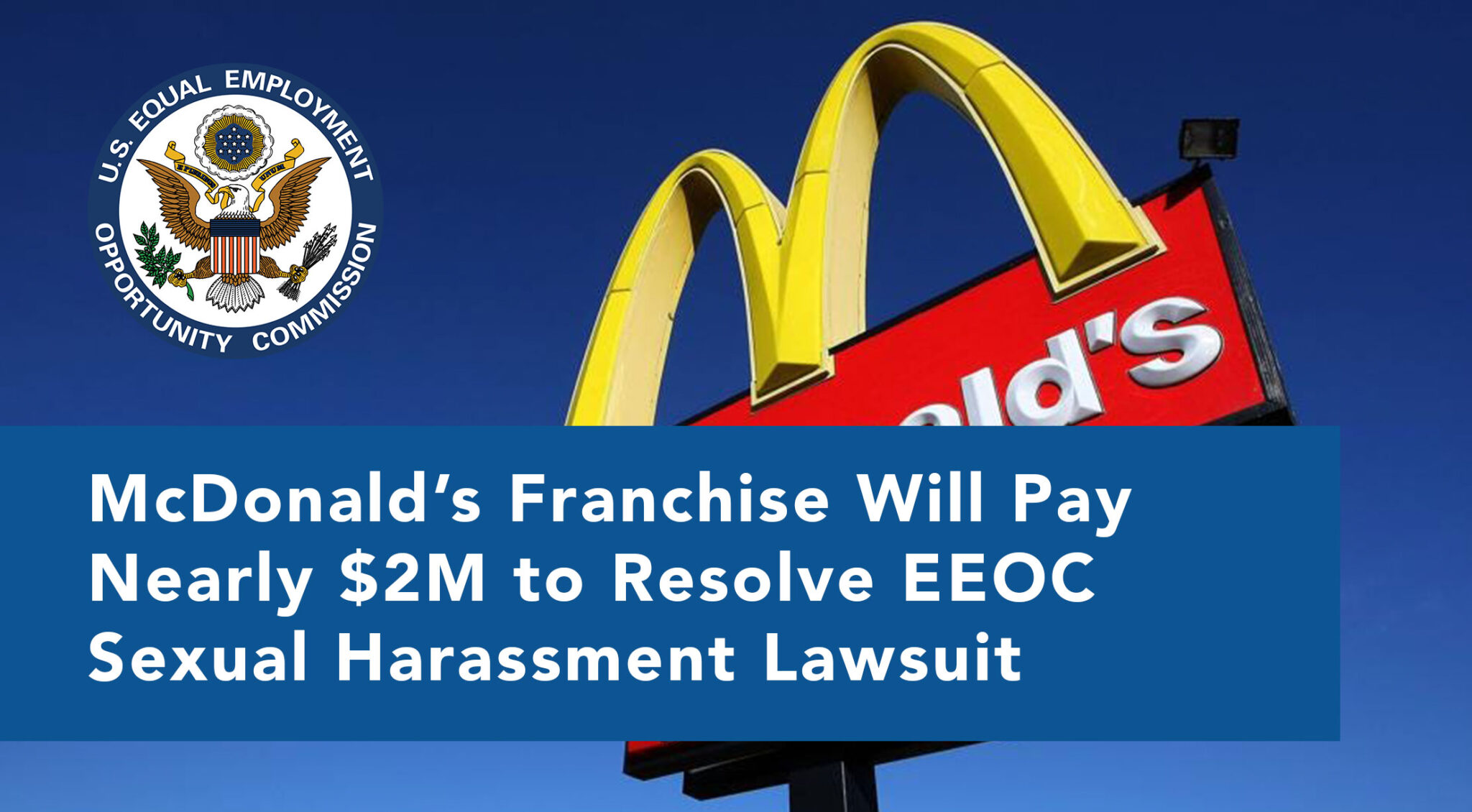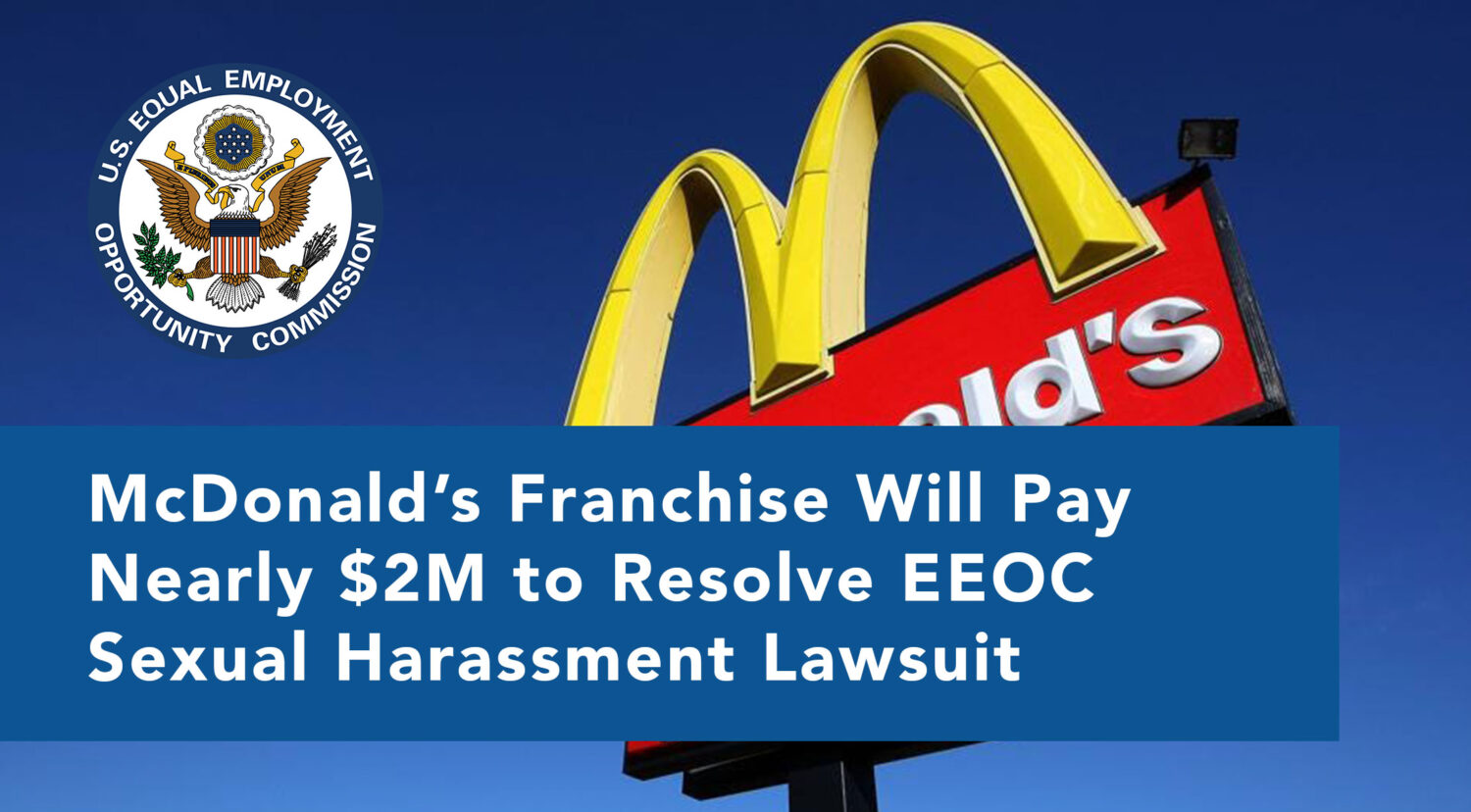 The U.S. Equal Employment Opportunity Commission (EEOC) agency recently announced that AMTCR, Inc., AMTCR Nevada, Inc., and AMTCR California, LLC (AMTCR), a McDonald's franchise owner headquartered in Arizona, will pay $1,997,500 to settle an EEOC sexual harassment lawsuit involving young employees in Nevada, Arizona, and California. 
The lawsuit states that since at least 2017, AMTCR was aware of the sexual harassment happening in various McDonald's restaurants and did nothing to prevent it from continuing. The victims, most of whom were young teenage employees, endured a pattern of harassment that included frequent unwanted physical contact, offensive language and comments, sexual propositions without consent, and intimidation. Since AMTCR failed to adequately handle the allegations of sexual harassment, several employees found the work atmosphere so unbearable that they had no alternative but to resign.
In addition to the monetary relief, AMTCR has agreed to do the following:
Implement preventive measures across the entire franchise in order to avoid discrimination and harassment in the workplace

 

Hire an outside third-party EEO monitor to ensure that AMTCR's practices in handling harassment and retaliation complaints follow EEO laws
Put in place a centralized tracking system for discrimination, harassment, and retaliation complaints
Ensure accountability and implement corrective measures when necessary
Carry out climate surveys in the workplace
Update existing policies and procedures related to discrimination, harassment, and retaliation
Provide EEO training to all employees and management
---
Understanding the Law
---
Title VII of the Civil Rights Act of 1964 protects employees from sexual harassment, which includes unwelcome sexual advances, requests for sexual favors, and other verbal or physical conduct. This conduct applies to actions that affect an individual's employment, unreasonably interfere with an individual's work performance, or creates an intimidating, hostile, or offensive work environment.
According to the EEOC, sexual harassment also includes unlawful retaliation "against an individual for opposing employment practices that discriminate based on sex or for filing a discrimination charge, testifying, or participating in any way in an investigation, proceeding, or litigation under Title VII."
---
Best Practices to Prevent Sexual Harassment in the Workplace
---
It is extremely important to take the necessary precautions to ensure sexual harassment in the workplace doesn't occur in the first place. Prevention is the best tool employers have for eliminating sexual harassment:
Employers should clearly communicate to employees that sexual harassment is not tolerated. This messaging should be included in formal non-discrimination/harassment policies and all new employee orientation programs. Additionally, employees should be regularly reminded of the policies and training programs.
It's vitally important that effective sexual harassment prevention training be given to all employees and managers in accordance with state and local requirements.
Regularly remind employees in writing that, since company policies strictly prohibit all discrimination/harassment, if such misconduct is engaged in by them, they will not only be subject to corrective action, but they may be personally responsible for the costs of having to defend against any such claim.
Remind managers in writing that their failure to promptly address or report sexual harassment, of which they are aware, may result in personal liability for such claims.
---
HR Unlimited, Inc. specializes in helping federal contractors and employers effectively meet their AAP and EEO compliance obligations. Please contact us to discuss any of your questions, concerns, or needs in this area.