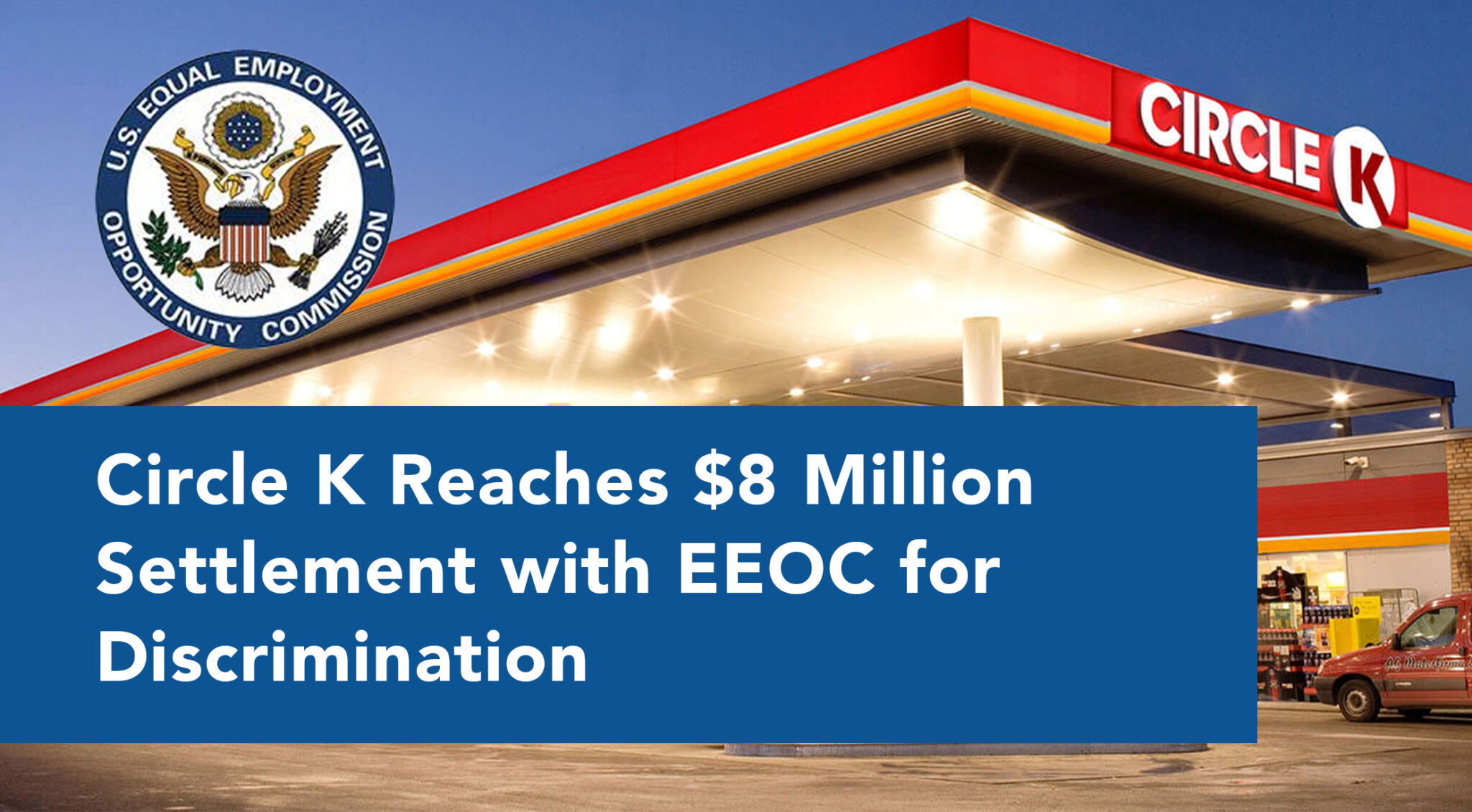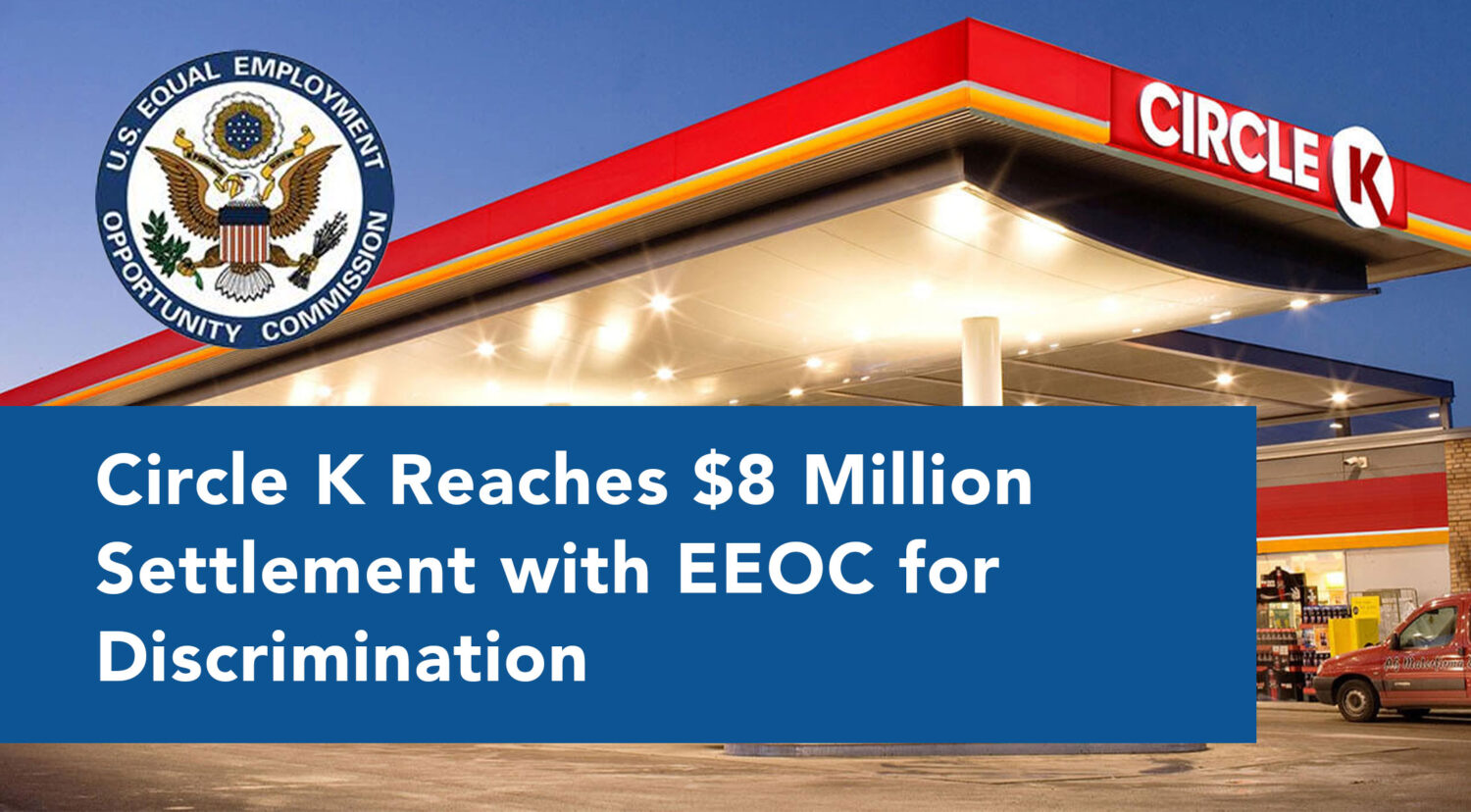 Circle K Stores Inc. recently reached an $8,000,000 conciliation agreement with the U.S. Equal Employment Opportunity Commission (EEOC) to resolve a disability, pregnancy, and retaliation discrimination lawsuit. The EEOC found reasonable cause to believe Circle K denied reasonable accommodations to pregnant employees and employees with disability. Some of the actions employees were forced to face included involuntary unpaid leave, retaliation, requiring employees to be 100% healed before they could return to work, or terminations. These all violate the Americans with Disabilities Act of 1990, Title VII of the Civil Rights Act of 1964, and the Pregnancy Discrimination Act.
As a result of this settlement, Circle K will pay $8,000,000 which includes compensation for impacted individuals between July 10, 2009, to September 26, 2022. The company will also focus on improving its ADA and EEO compliance efforts by: 
Updating their anti-discrimination policies

Assigning a coordinator to implement, review, and monitor policies, reasonable accommodation requests, and record maintenance

Providing EEO training to all employees and management

Conducting performance evaluations to ensure that they are in compliance with EEO laws
---
Reasonable Accommodation and Anti-discrimination Obligations of Federal Contractors
---
This case highlights the obligation of employers to prohibit workplace discrimination under the Americans with Disabilities Act of 1990, Title VII of the Civil Rights Act of 1964, and the Pregnancy Discrimination Act.  
Employers cannot discriminate against a protected class in any aspects of employment, including hiring and firing, promotions, training, benefits, job assignments, layoffs, or any other term or condition of employment. They are also responsible for creating a work environment that is free from harassment or discrimination. 
Employers must also accommodate employees with disabilities or those who are pregnant unless doing so would impose an undue hardship on the business. Undue hardship can include excessive expense, compromises to workplace safety, infringing on other employees' rights, or decreasing workplace efficiency. A reasonable accommodation could include additional leave beyond FMLA leave, flexible scheduling, equipment, modified policies, modified duties, or reassignments.
---
Best Practices to Avoid Discrimination/Accommodation Claims
---
EEOC has a disability resource page as well as a pregnancy resource page with a comprehensive list of materials on workplace rights for employers who want to understand how to comply with EEO laws. To ensure that you comply with federal requirements, employers should:
Have

anti-discrimination and reasonable accommodation policies

and procedures that are well-publicized and consistently enforced.

Review and update

leave policies

to ensure that they do not include rigid maximum leave with no flexibility for additional leave for a disability or pregnancy-related reason.

 

Publish and implement an

interactive process

to help employees communicate their concerns or requests for accommodation. 

Train managers and supervisors

about how to reduce the risk of discrimination in employment practices, how to address retaliation, and how to recognize and handle reasonable accommodation requests. 

Ensure that managers or supervisors intervene when they become aware of potentially discriminatory conduct

in the workplace, even if the affected employee does not file a complaint.

Well-document business decisions and maintain records

of discussions and decisions regarding employment decisions and requests for reasonable accommodation. 
Federal contractors should regularly review their anti-discrimination policies and procedures and ensure that records of AAPs are being adequately created and retained in the event of an OFCCP or EEOC investigation. 
---
HR Unlimited, Inc. specializes in helping federal contractors and employers effectively meet their AAP and EEO compliance obligations. Please contact us to discuss any of your questions, concerns, or needs in this area.